Grilled Italian Sausage with Sweet 'n Sour Peppers
published Sunday, August 29, 2021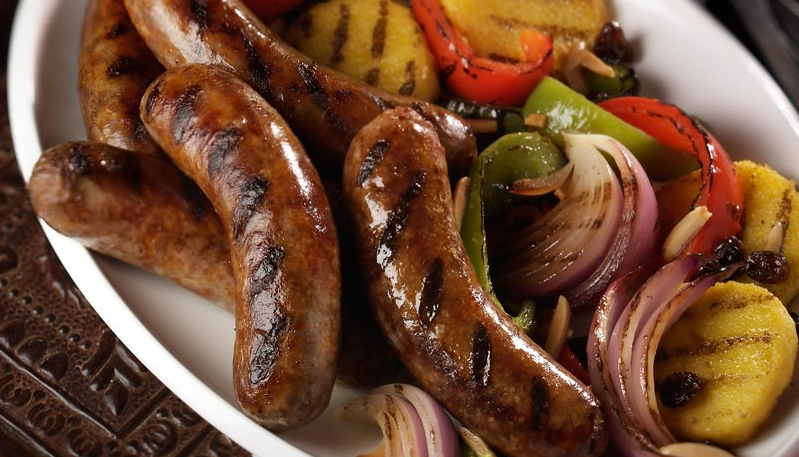 Prep Time: 10 minutes
Cook Time: 15 minutes
Total Time: 25 minutes
Servings: 8
Take the big flavor of Johnsonville Italian Sausage and add bell peppers, almonds, raisins, onions, Italian dressing and pineapple for sweet 'n sour flavors elevated to the next level.
Directions
Step 1
In a small skillet, cook and stir almonds over medium-low heat until golden; about 1 to 2 minutes.
Step 2
Stir in raisins; remove from heat and let stand for 1 minute.
Step 3
Carefully stir in the vinegar, sugar, salt and black pepper.
Step 4
Return to medium-low heat, cook and stir until sugar is dissolved; about 2 minutes and set aside.
Step 5
In a large bowl, combine peppers and onions; drizzle with oil and toss gently to coat.
Step 6
Grill sausage according to package directions. Grill vegetables uncovered until tender; about for 15 minutes. Turning veggies halfway through grilling.
Step 7
While sausages and vegetables are grilling, brush slices of polenta or pineapple with Italian dressing; grill on each side until golden; about 2 minutes.
Step 8
Return grilled vegetables to large bowl; add almond mixture and toss gently to coat.
Step 9
Arrange sausage on a large platter with the grilled polenta or pineapple and vegetable mixture.