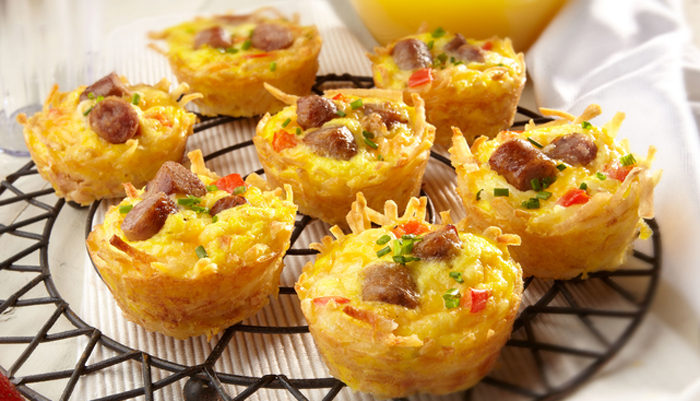 Prep Time: 15 minutes
Cook Time: 15 minutes
Total Time: 30 minutes
Servings: 12
Make these breakfast muffins and see why Mexican cheese, ORE-IDA Shredded Hash Brown Potatoes, and sausage make for some truly Amazing Hash Brown Cups!
Directions
Step 1
Heat oven to 400°F.
Step 2
Combine 3 cups hash brown potatoes, 3 Tbsp butter and 1/8 tsp black pepper; press onto bottoms and up sides of 12 muffin pan cups sprayed with cooking spray. Bake 12 min. or until lightly browned.
Step 3
Meanwhile, cook sausage as directed on package; drain on paper towels. Cut into 1/2-inch-thick slices.
Step 4
Spoon sausage into potato cups. Whisk 6eggs in a medium bowl until blended. Stir in 9 oz (about 1 1/4 cups) cheese and 1/4 cup chopped red peppers; spoon over sausage.
Step 5
Bake 13 to 15 min. or until centers are set.
Step 6
Sprinkle with chives and serve warm.
Cook's Notes
Make these Amazing Hash Brown Cups ahead of time to pop in the microwave or enjoy cold for a quick and filling breakfast all week!