One Pot Turkey Taco Pasta
published Thursday, August 19, 2021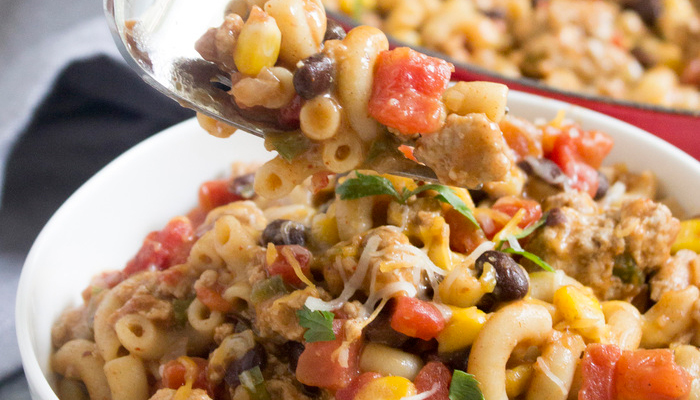 Prep Time: 10 minutes
Cook Time: 25 minutes
Total Time: 35 minutes
Servings: 6
With one pot and 30 minutes, dinner is done with our One-Pot Turkey Taco Pasta recipe! Get your pasta fix with a healthier pasta meal made with lean ground turkey, fresh bell peppers and onions, black beans, tomatoes and Mexican cheese.
Directions
Step 1
Heat large skillet over medium heat.
Step 2
Add oil, turkey, salt, black pepper, onion and bell pepper. Cook about 7 to 10 minutes or until turkey is no longer pink.
Step 3
Add tomatoes, black beans, corn, taco seasoning and 2.5 cups water.
Step 4
Bring to a full boil; add pasta.
Step 5
Reduce heat to low simmer; cook 8 minutes, stirring occasionally.
Step 6
Add cheese; stir until cheese is melted.