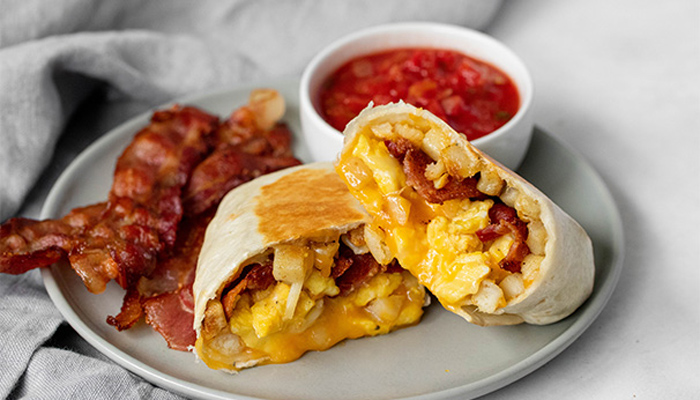 Prep Time: 15 minutes
Cook Time: 10 minutes
Total Time: 25 minutes
Servings: 4
You know it's going to be a good one when you start your day with Bacon Breakfast Burritos!
Directions
Step 1
Cook frozen hash browns according to directions on package.
Step 2
Cook bacon according to directions on package.
Step 3
In a small bowl, beat eggs and season with salt and pepper.
Step 4
Scramble eggs in a non-stick skillet over medium heat. Stir until cooked to desired consistency. Remove from heat.
Step 5
Warm tortillas in the microwave for 20-30 seconds.
Step 6
Spoon hash browns and scrambled eggs into the center of each tortilla. Then top each tortilla with 1/4 cup shredded cheddar cheese and bacon. Wrap tortilla to form burrito and place in a medium pan over low heat, warming on each side for 2-3 minutes.
Step 7
Serve with salsa or sour cream on the side.