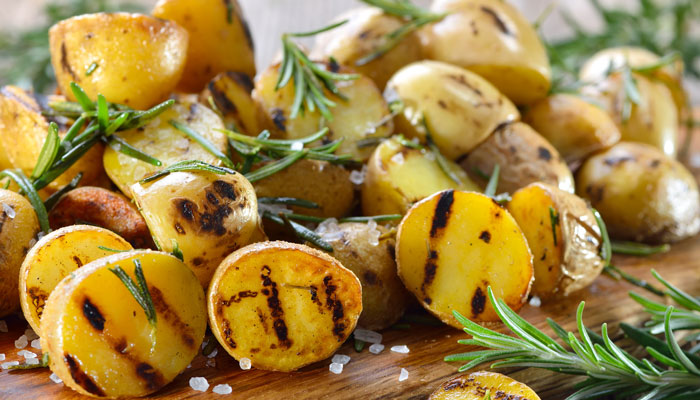 Prep Time: 10 minutes
Cook Time: 12 minutes
Total Time: 22 minutes
Servings: 4
We love potatoes any way we can get 'em, but nothing beats these baby spuds, spiked with rosemary, gently smashed, and grilled over a direct flame. Here's how to dial in that balance of crispy skin and tender potato perfection in every bite.
Directions
Step 1
Boil the potatoes until you can just pierce them with a knife. Make sure not to overcook. They'll finish on the grill.
Step 2
Drain the potatoes, and place onto a board. Use a hard, flat surface (like the bottom of a jar) to lightly smash them so they are even but not pressed too thinly.
Step 3
Drizzle your smashed potatoes with oil, and season with salt and pepper on both sides. Top them off with finely chopped rosemary.
Step 4
Grill until golden. Place the potatoes on the warm grill, and cook until the skin becomes golden and crispy, about 5 minutes per side.
Step 5
Add a drizzle of melted butter before serving for an extra luscious finish.