Grilled Brats on Pretzel Buns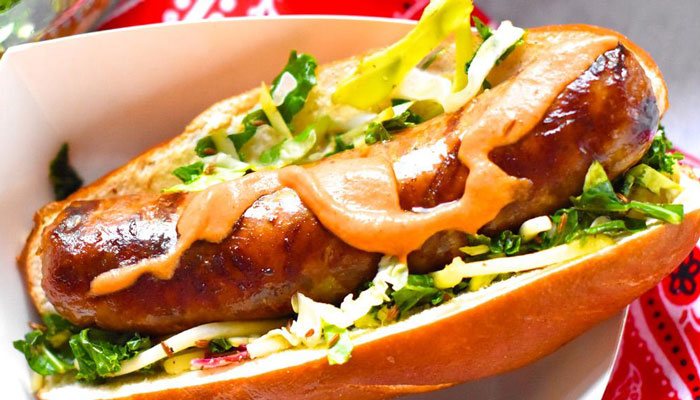 Prep Time: 15 minutes
Cook Time: 25 minutes
Total Time: 40 minutes
Servings: 4
What is better than a pretzel? A brat on a pretzel! A flavorful grilled brat on a bed of wilted slaw between a tasty pretzel bun, topped with a hot & spicy Sriracha-Mustard mix. Fire up your taste buds!
Directions
Step 1
Place shredded cabbage mix in a glass bowl.
Step 2
Bring to boil in a saucepan the sugar, vinegar, oil, salt, and celery seed. Stir and remove from heat. Pour over cabbage mix and toss well. Cover and chill until ready to use.
Step 3
In a small bowl, mix together the mustard and Sriracha sauce. Taste and adjust to your personal taste. Set aside.
Step 4
Grill Brats on an outdoor grill or indoors in a grill pan until puffy and juicy. (Always cook thawed links until center is no longer pink and the internal temperature has achieved 170° F.)
Step 5
Serve on split pretzel hot dog buns on a bed of wilted slaw and a slather of Sriracha-mustard.
Cook's Notes
Serve with your favorite sides including additional slaw, potato salad, and pickles.