Cheese Stuffed Potato Balls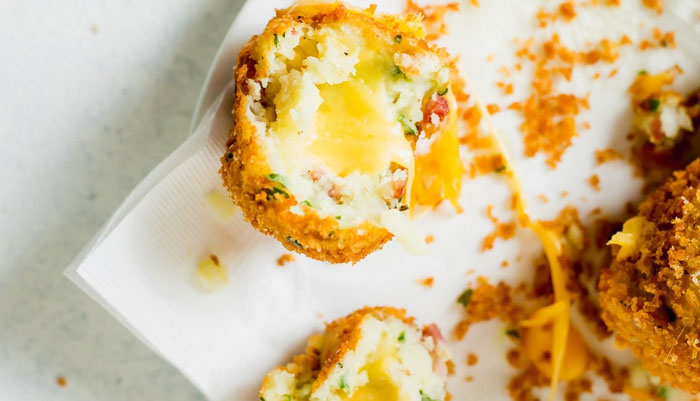 Cheese Stuffed Potato Balls are a favorite with kids - crispy on the outside and full of melted, gooey cheese on the inside.
Directions
Step 1
Place whole potatoes in a medium-sized pot and fill with water. Bring to a boil. Cook until potatoes are soft inside when you insert a knife, about 15-20 minutes.
Step 2
Drain and let cool. Peel potatoes and grate.
Step 3
In a large bowl combine 3 cups of grated or mashed potatoes, bacon pieces, spinach, eggs, black pepper, salt, and garlic powder.
Step 4
Using a small ice cream scoop place one scoop of mashed potato mixture into your hand, top with one cheese cube and then add another scoop of potato mixture on top.
Step 5
Form a ball and roll in panko bread crumbs.
Step 6
Heat oil in a small saucepan over medium-high heat. Deep fry until golden brown and crispy on the outside.
Step 7
Drain on paper towels and serve warm.
Cook's Notes
Idaho® potato variety photo from the Idaho Potato Commission and recipe author, Love Keil.