Comforting Beef Bolognese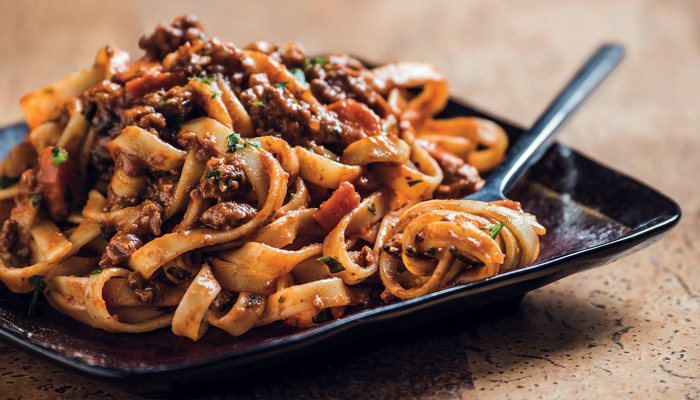 Bring the flavor of Italy to your table with this comforting Beef Bolognese. This authentic and traditional recipe is perfect for a weekend family meal.
Directions
Step 1
Heat large sauté pan or Dutch oven over medium-high heat; add oil to coat pan. Cook onion, carrot and celery until onions start to become transparent, 3-5 minutes. Add garlic, bacon and ground beef; break up and cook until no pink remains.
Step 2
Add wine and stir 2 minutes, scraping any brown bits from bottom of pan. Add tomato paste, stock, Italian seasoning, salt and pepper. Reduce heat to low, simmering for 1 hour uncovered, stirring occasionally.
Step 3
Heat milk in separate saucepan over medium heat until hot to the touch without boiling, 2-3 minutes. (or microwave milk for 1 1/2 minutes on high.) Stir milk into sauce about a 1/4 cup at a time until absorbed. Simmer, nearly covered, for 30 minutes.
Step 4
Meanwhile, cook pasta according to package directions and drain.
Step 5
Combine pasta with half of the Bolognese sauce and parsley; then plate, topping with remaining sauce, parsley and grated cheese to taste.