Air Fryer Sweet Potato Nachos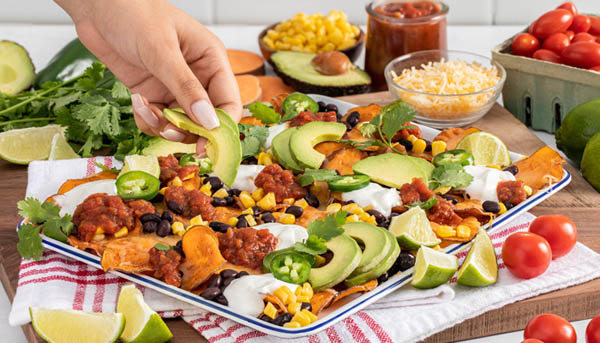 Prep Time: 10 minutes
Cook Time: 30 minutes
Total Time: 40 minutes
Servings: 6
This vegetarian entree is loaded with flavor! Use an air fryer to make crispy homemade sweet potato chips and then top with black beans, cheese, corn, salsa, avocado, and sour cream for a quick and easy appetizer or meal everyone will love. No air fryer? Substitute with Full Circle Sweet Potato Chips.
Directions
Step 1
Preheat air fryer to 360°F. Place sweet potatoes in a large bowl. Drizzle with olive oil and season with salt, pepper and garlic powder. Toss to coat.
Step 2
Working in batches, arrange sweet potatoes in a single layer in air fryer basket. Cook for15 to 20 minutes, or until golden-brown and crisp. Transfer finished chips to a wire rack.
Step 3
Line air fryer basket with aluminum foil. Place a layer of chips on foil and cover with 1/2cup cheese. Add 1/2 cup black beans and 1/2 cup corn. Repeat layers with more chips,cheese, black beans and corn, finishing with a top layer of cheese. Cook for 10 minutes at300°F, or until cheese is melted.
Step 4
Transfer nachos to serving platter and top with salsa, yogurt, avocado, jalapeno and cilantro. Serve with lime wedges