Chipotle Coffee Braised Brisket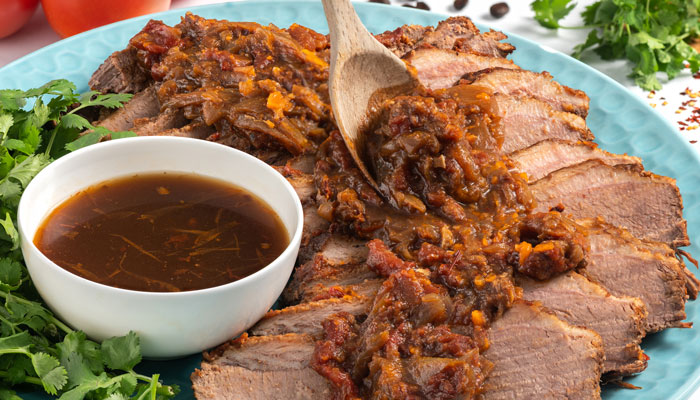 Prep Time: 45 minutes
Cook Time: 320 minutes
Total Time: 365 minutes
Servings: 8
Our Chipotle Coffee Braised Brisket recipe is tender and moist with a kick of spicy flavor the whole family will enjoy during Passover, Rosh Hashanah, Hanukkah, or anytime.
Directions
Step 1
Preheat oven to 325°F.
Step 2
In a large Dutch oven, preheat 1 tablespoon of oil over high heat until shimmering. Lightly coat brisket in flour, tapping off any excess and place fat-side-down in pan. Brown on both sides, about 8-10 minutes per side. Transfer brisket to a plate and set aside.
Step 3
Turn heat down to medium and add remaining tablespoon of oil to pot. Add onions, garlic and salt. Sauté until onions have softened, about 12 minutes. Add seasoning mix and tomato paste and cook for 3 minutes, stirring frequently. Stir in Chipotle peppers, diced tomatoes, brown sugar, coffee and chicken broth.
Step 4
Bring to a boil and add browned brisket. Cover tightly with aluminum foil and top with lid.Transfer to oven and cook for 3 1/2 to 4 hours, or until brisket is tender.
Step 5
Transfer cooked brisket to a cutting board and let rest at least 30 minutes. Skim excess fat from pot and season to taste with salt and pepper. Slice brisket against the grain and return to pot with sauce. Heat over low heat for ten minutes, or until brisket is warmed through. Serve immediately.
Cook's Notes
Serve with homemade potatoes to create a mouthwatering entree for the entire family to enjoy.