Pesto and Pepper Pasta Bowl
published Thursday, January 21, 2021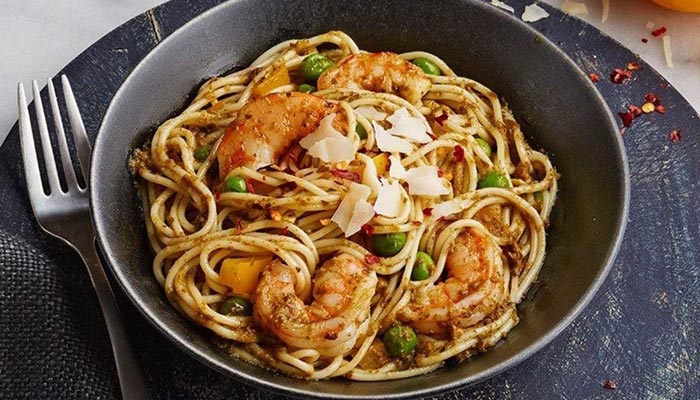 Prep Time: 20 minutes
Cook Time: 9 minutes
Total Time: 29 minutes
Servings: 8
Assemble a quick and easy dinner bursting with flavor in this lightened up pasta recipe.
Directions
Step 1
Peel and devein shrimp. Rinse, and pat dry with paper towels.
Step 2
In a large pot bring 4 to 6 quarts of water to a rolling boil; add salt to taste and pasta; stir gently.
Step 3
Cook pasta according to package directions; remove from heat and drain well.
Step 4
Meanwhile, in a large skillet bring chicken broth to a simmer, stir in shrimp, peas, and pepper and simmer until shrimp are opaque and pepper is tender (about 3 minutes). Add pesto; heat through. Add pasta; stir gently to combine.
Step 5
Serve topped with crushed red pepper, additional pesto, and Asiago cheese.
Cook's Notes
Instead of shrimp, you can also try thinly sliced precooked chicken. Try chickpeas instead of peas. Add broccoli or snap peas to the mix.