Spaghetti Vegetable Stir Fry Recipe
published Tuesday, December 1, 2020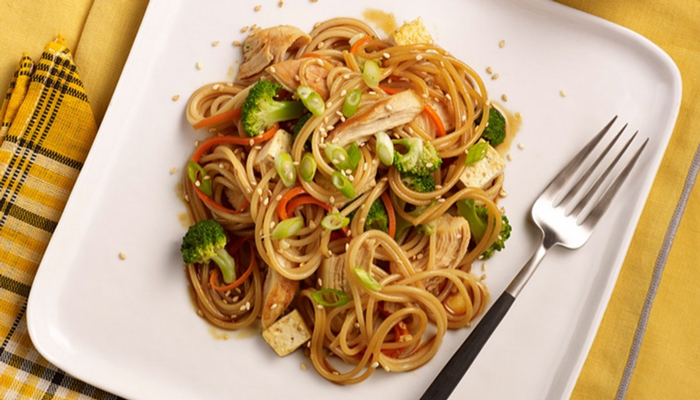 Prep Time: 15 minutes
Cook Time: 15 minutes
Total Time: 30 minutes
Servings: 6
Inspired by chicken stir fry, this vegetarian version is full of delicious flavor! Replace the chicken with tofu, add spaghetti pasta and plenty of vegetables and you have a meal the whole family will enjoy!
Directions
Step 1
Bring a large pot of water to a boil.
Step 2
Meanwhile in a large skillet or wok, sauté broccoli, carrots and tofu in peanut oil for 2-3 minutes. (If you prefer adding chicken, cook here.)
Step 3
Add garlic and sauté for 1 minute, then add teriyaki sauce and cook for another few minutes until chicken is cooked through.
Step 4
Cook pasta according to package directions. Drain and toss the spaghetti with the sauce and vegetables. Before serving, add sesame oil and stir to combine.
Step 5
Top with green onions and sesame seeds.
Cook's Notes
If you prefer chicken instead of tofu, add cooked chicken strips to this dish.