Mini Pumpkin Pot Pies
published Monday, November 9, 2020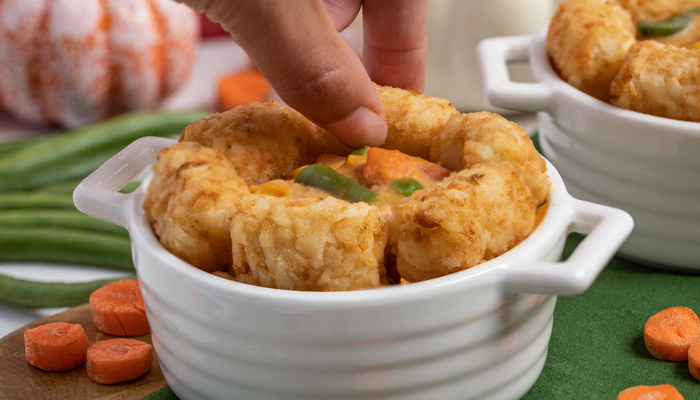 This Mini Pumpkin Pot Pies recipe is a fun Fall vegetarian dish your family will love. Prep ahead for a quick dinner this week.
Directions
Step 1
Preheat oven to 375°F.
Step 2
Coat 8 ramekins with cooking spray.
Step 3
In a large bowl mix together hash browns, cheddar cheese and beaten egg until thoroughly combined.
Step 4
Press 1/2 cup of hash brown mixture into each ramekin to create a crust.
Step 5
Bake in preheated oven for 15minutes or until light golden brown.
Step 6
While crusts bake melt butter over medium heat in a large skillet. Whisk in flour and cook,stirring frequently, for 2 minutes. Gradually whisk in milk until smooth. Bring to a boil then reduce heat to low. Stir in pumpkin puree, Parmesan cheese, salt and pepper until combined. Add mixed vegetables and simmer for 2 minutes.
Step 7
Divide mixture evenly between ramekins and top with frozen tater tots.
Step 8
Bake for 15-20 minutes, or until bubbling and golden-brown on top.