Veggie Noodle Bowl
published Monday, October 5, 2020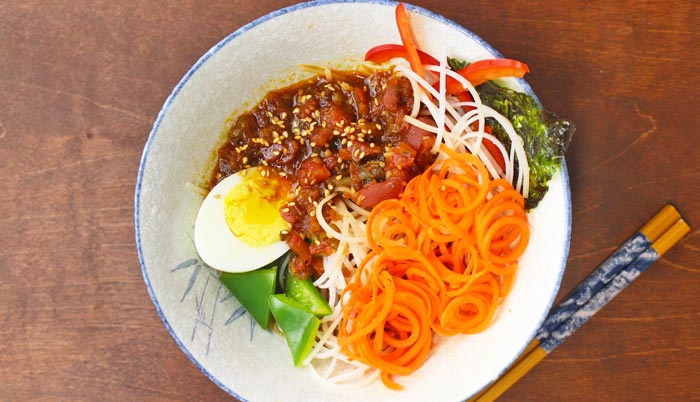 This take-out inspired Veggie Noodle Bowl is naturally gluten free and vegetarian. It is a quick and easy meal of crisp vegetables and rice noodles with a family-friendly tomato based sauce the whole family will love.
Directions
Step 1
1. Add sunflower oil to a medium-sized saucepan.
Step 2
2. Quickly saute the minced garlic and minced ginger over medium-high heat until lightly browned, about 3 minutes.
Step 3
3. Add the thinly sliced scallions and saute for an additional 30 seconds.
Step 4
4. Pour in the diced tomatoes and tamari and reduce slightly, about 5 minutes.
Step 5
5. Add the broth and bring to a boil. Reduce to a simmer and cook for 8 minutes.
Step 6
6. Pour over rice noodles and garnish with carrots, peppers, egg, seaweed, and sesame seeds.