Asian Sesame Pork Tenderloin
published Tuesday, September 29, 2020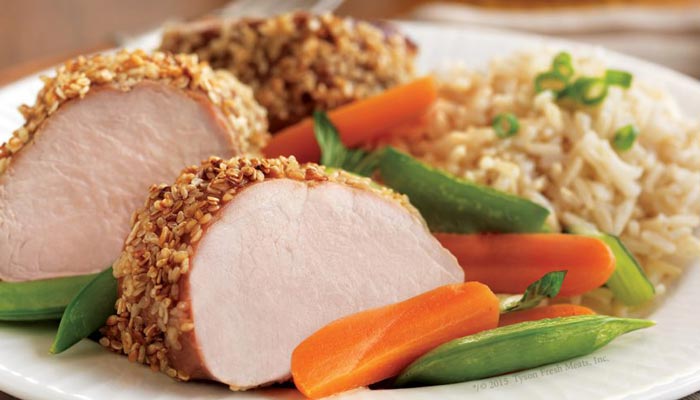 Cook Time: 30 minutes
Total Time: 30 minutes
Servings: 4
Brown rice, stir-fried vegetables and Asian-inspired pork — add sesame seeds to the mix and you've got one delicious meal! Our Asian Sesame Pork Tenderloin with brown rice and stir-fried vegetables is an easy family dinner recipe that's perfect for any night of the week. Serve with brown rice and stir-fried baby carrots, sugar snap peas, and bok choy.
Directions
Step 1
Combine marinade ingredients. Place pork tenderloin and marinade in food-safe plastic bag; turn to coat. Close bag securely and marinate in refrigerator for up to 2 hours.
Step 2
Heat oven to 450°F. Remove pork from marinade; discard marinade.
Step 3
On dinner plate, combine honey and brown sugar. Place sesame seeds on another plate. Roll the tenderloin in the honey mixture to coat evenly, then in sesame seeds.
Step 4
Place roast in shallow roasting pan. Do not add water or cover. Roast in 450°F oven 15 to 20 minutes or until 145°F for medium-rare doneness. Let stand 3 minutes.
Step 5
Carve tenderloin into slices.