Loaded Sheet Pan Nachos
published Monday, July 27, 2020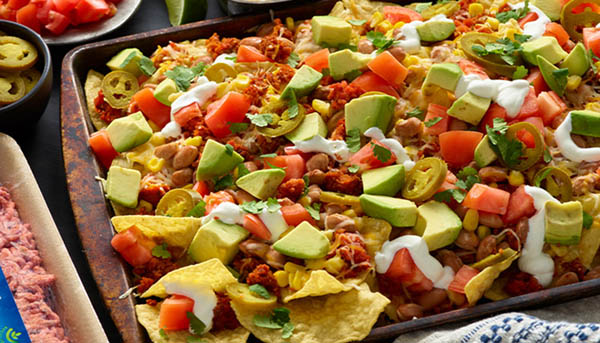 Prep Time: 15 minutes
Cook Time: 20 minutes
Total Time: 35 minutes
Servings: 6
Whether you want to eat more plant-based proteins or just a little less meat, you can grow your options with Pure Farmland.
Directions
Step 1
Heat oil in a large sauté pan over medium-high heat. Add protein to pan and sprinkle with taco seasoning. Cook until browned and cooked through. Remove and reserve on a paper towel-lined plate.
Step 2
Arrange tortilla chips on large nonstick baking sheet. Top evenly with protein followed by corn, beans, and cheese.
Step 3
Place in preheated oven and bake until cheese is melted, approximately 5-8 minutes. Remove from oven.
Step 4
Top with remaining ingredients and serve.