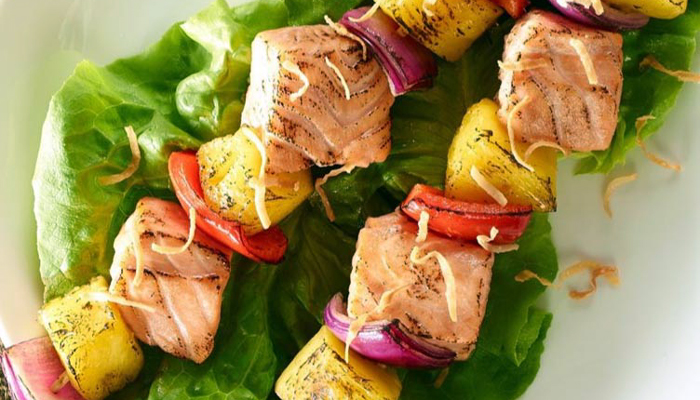 Prep Time: 30 minutes
Cook Time: 20 minutes
Total Time: 50 minutes
Servings: 6
You'll be hooked on these Pineapple Salmon Kabobs whether you cook on the grill or on a broiler in the oven. These healthy and hearty kabobs are delicious and easy to make with fresh salmon, peppers, and pineapple. Serve over your favorite rice for a complete, balanced meal.
Directions
Step 1
In medium bowl, whisk together, pineapple juice, coconut milk, lime juice, honey, grapeseed oil, garlic and salt to create marinade.
Step 2
Place salmon in large zip top bag, pour marinade over salmon. Seal bag and refrigerate 30 minutes.
Step 3
Soak skewers in water for 20 minutes. Preheat grill or broiler to medium high.
Step 4
Remove salmon from marinade; reserve ¼ cup marinade.
Step 5
Thread salmon, pineapple, pepper and onion onto skewers.
Step 6
Reduce heat to medium and coat grill or broiler pan with olive oil.
Step 7
Place kabobs on grill or broiler pan; rotate a ¼ turn every 3 to 4 minutes or until a thermometer inserted into salmon registers 145 degrees.
Step 8
Remove kabobs onto serving platter and keep warm.
Step 9
Heat reserved marinade to simmering and drizzle over kabobs; sprinkle toasted coconut over kabobs.