Strawberry Heart Ice Cream Cake
published Tuesday, May 5, 2020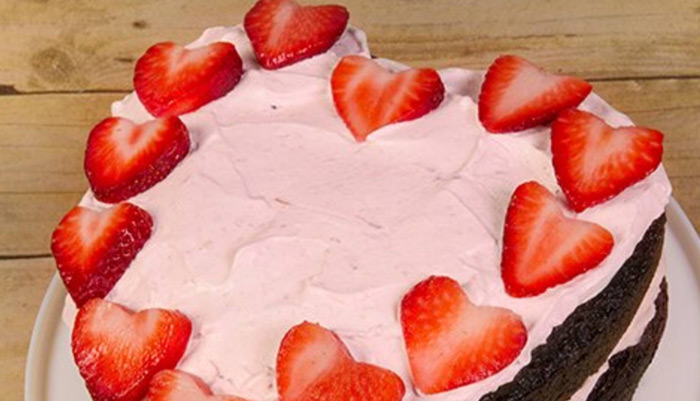 Prep Time: 5 minutes
Cook Time: 20 minutes
Total Time: 25 minutes
Servings: 8
Make any occasion extra special with our decadent heart-shaped ice cream cake!
Directions
Step 1
Prepare chocolate cake batter according to package directions, using two 9-inch heart shaped pans for baking. Cool cakes completely.
Step 2
Allow Breyers® Vanilla Ice Cream to soften at room temperature 5 minutes.
Step 3
Scoop ice cream into large bowl and stir in 1 jar strawberry topping.
Step 4
Evenly spread ice cream mixture on top of one of the cake layers.
Step 5
Top with second cake layer.
Step 6
Freeze cake until ready to serve.
Step 7
Slice strawberries 1/4-inch thick, then cut into heart shapes using small heart shaped cutter or by trimming with a small knife.
Step 8
Just before serving, stir together whipped topping and remaining jar strawberry topping. Evenly spread on top of cake.
Step 9
Top with strawberry hearts.
Step 10
Freeze leftovers.
Cook's Notes
If you do not have a heart-shaped pan, you can use a you could use a 9-inch round pan and a 9-inch square pan. After they're done baking, let the cakes cool completely, then remove both of them from their pans and gently cut the circular cake in half. Add the two circle halves to two adjacent sides of the square to create a heart shape.