PEEPS Easter Basket Cake
published Tuesday, April 7, 2020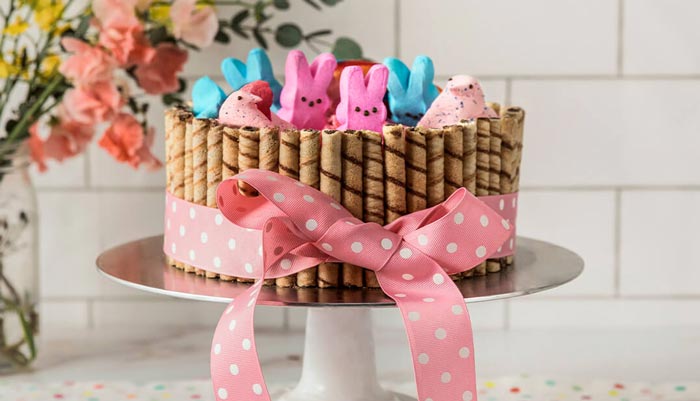 Prep Time: 25 minutes
Cook Time: 30 minutes
Total Time: 55 minutes
Servings: 16
This PEEPS® Easter Basket Cake is a classic combination of classic yellow cake and chocolate frosting decorated to look like an Easter basket and topped with PEEPS® Marshmallow Chicks and Bunnies and cotton candy.
Directions
Step 1
Preheat oven to 350°F. Spray two 8-inch round pans with baking spray.
Step 2
Beat cake mix water, eggs an oil in large bowl with an electric mixer at low speed until blended, about 30 seconds. Beat at medium speed 2 minutes.
Step 3
Pour into pans and bake 26 to 31 minutes, until toothpick inserted in center comes out clean. Cool on wire rack.
Step 4
Place cooled cake layer on serving plate. Frost with a thin layer of frosting. Top with second cake layer and frost entire cake with remaining frosting.
Step 5
Place cookies or pretzel rods around the cake. Top cake with cotton candy (optional) and PEEPS® Marshmallow Chicks and Bunnies.
Step 6
Tie ribbon in a bow around the bottom of the cake.
Step 7
Make the handle by tucking ends of ribbon into bow ribbon.
Cook's Notes
To make decorated pretzel rods: Line a baking sheet with parchment or waxed paper. Melt 3 squares vanilla almond bark according to package directions. Use a serrated knife to cut 16 pretzel rods in half. Dip one end of each in melted almond bark and place on baking sheet to dry. Sprinkle with rainbow sprinkles.