Cedar Plank Swordfish with Tomato Avocado Salsa Recipe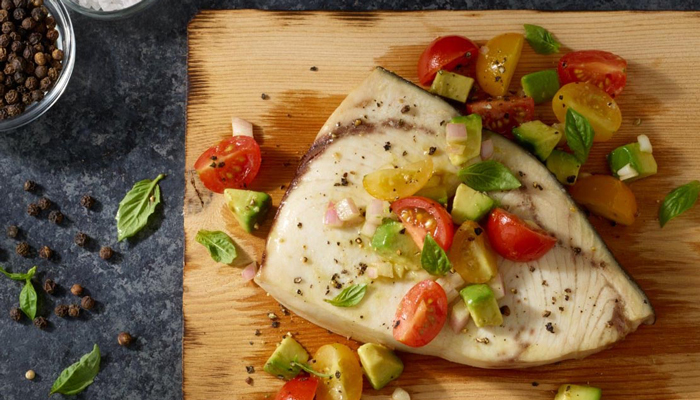 Prep Time: 15 minutes
Cook Time: 20 minutes
Total Time: 35 minutes
Servings: 2
This melt-in-your mouth swordfish is quick and easy to prepare and will impress everyone. The avocado salsa is a delicious fresh accompaniment to this hearty swordfish entree.
Directions
Step 1
Soak cedar plank in warm water at least 1 hour.
Step 2
Preheat grill to high.
Step 3
Pat swordfish steaks dry on paper towels. Brush swordfish steaks on all sides using 1 tablespoon oil and season lightly with salt and pepper, place on a cedar grilling plank (about 12" long). Place plank on grill, 4 to 5 inches from heat source.
Step 4
Cover grill and cook 20 minutes or until fish is opaque and flakes easily, do not turn steaks.
Step 5
Meanwhile, combine tomatoes, avocado, green onions, remaining 1 tablespoon oil and vinegar in a medium bowl, season with salt and pepper to taste.
Step 6
Stir in basil leaves.
Step 7
Serve salsa over swordfish.