Body Fortress Whey Protein, Chocolate, Super Advanced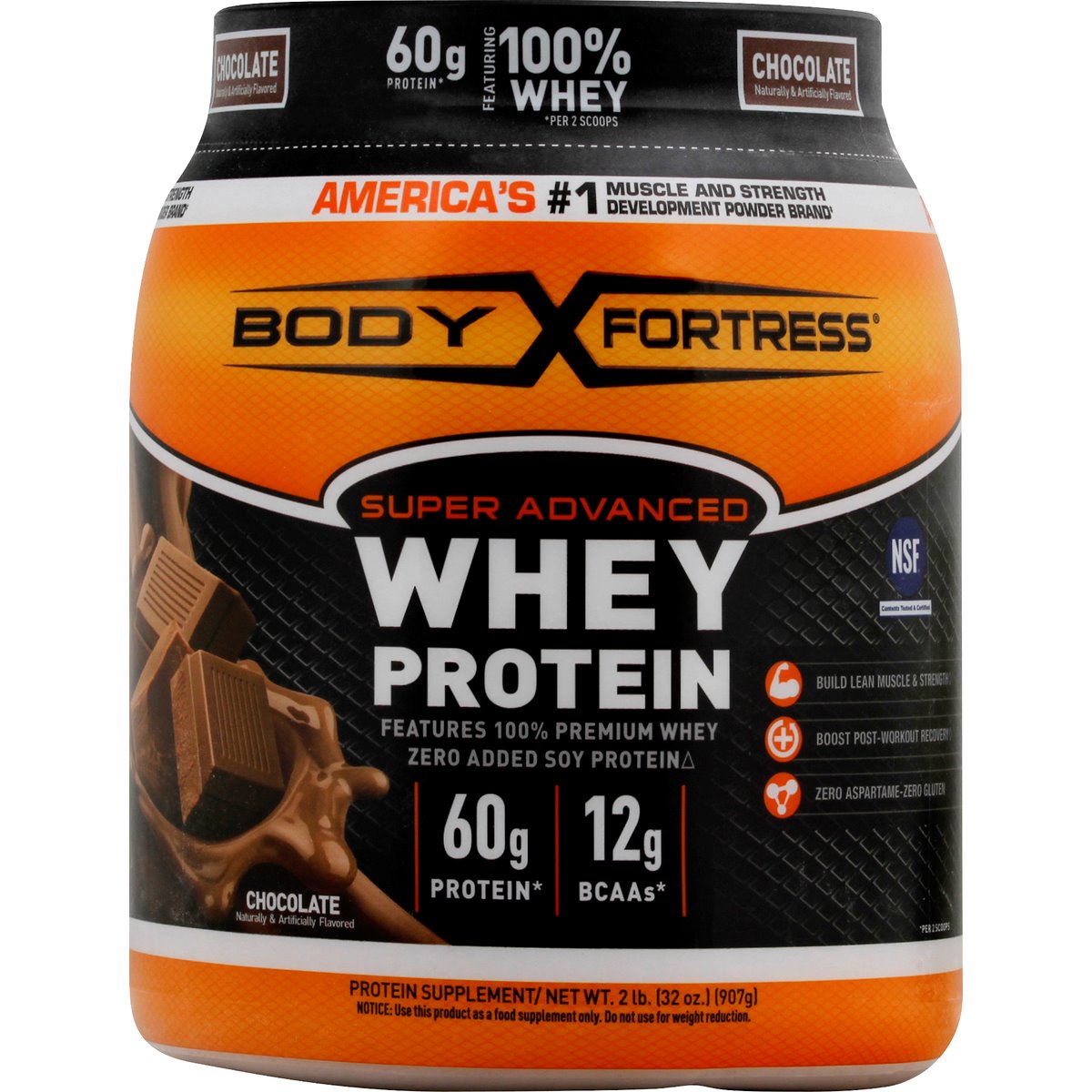 $24.79
2.0 lb.
Body Fortress Whey Protein, Chocolate, Super Advanced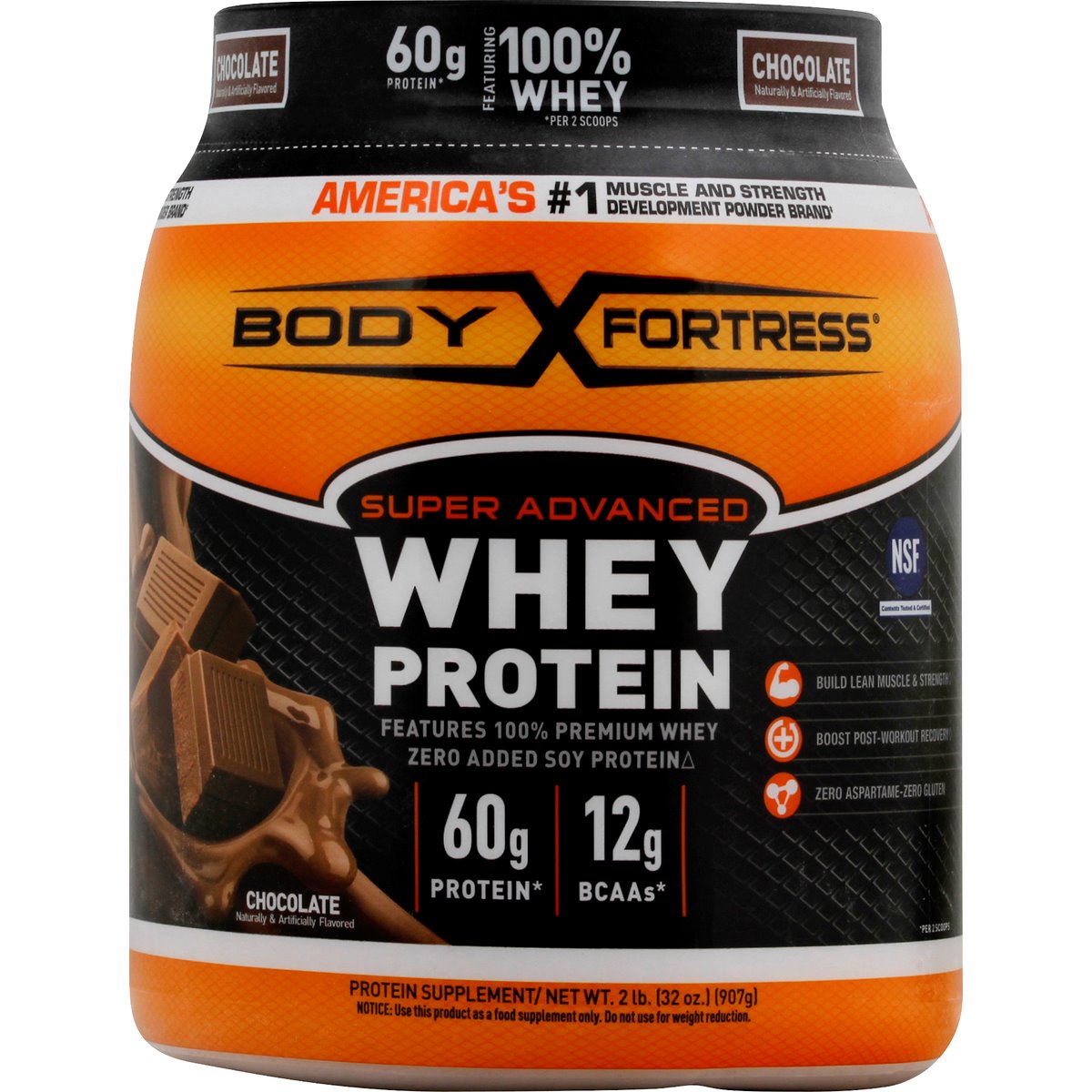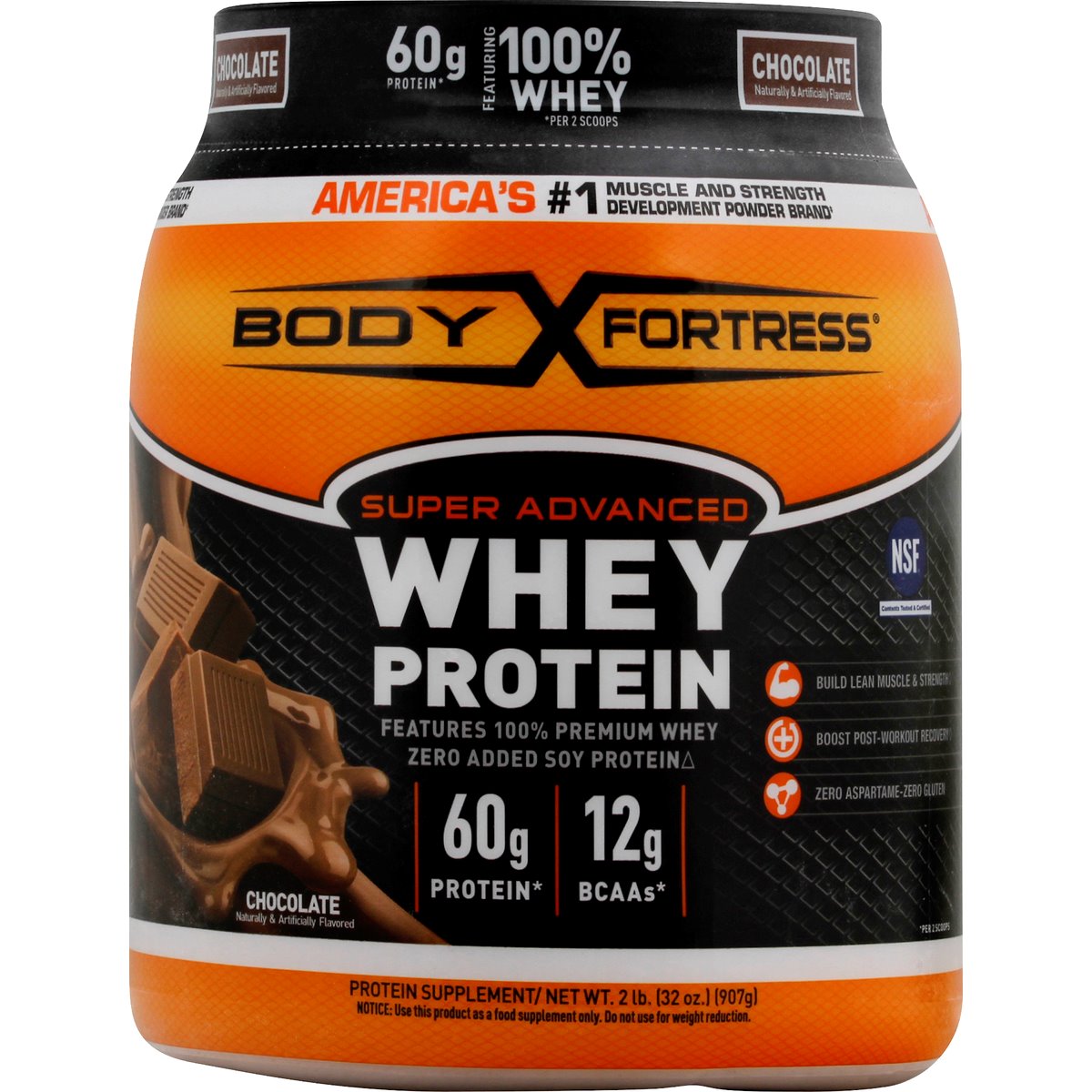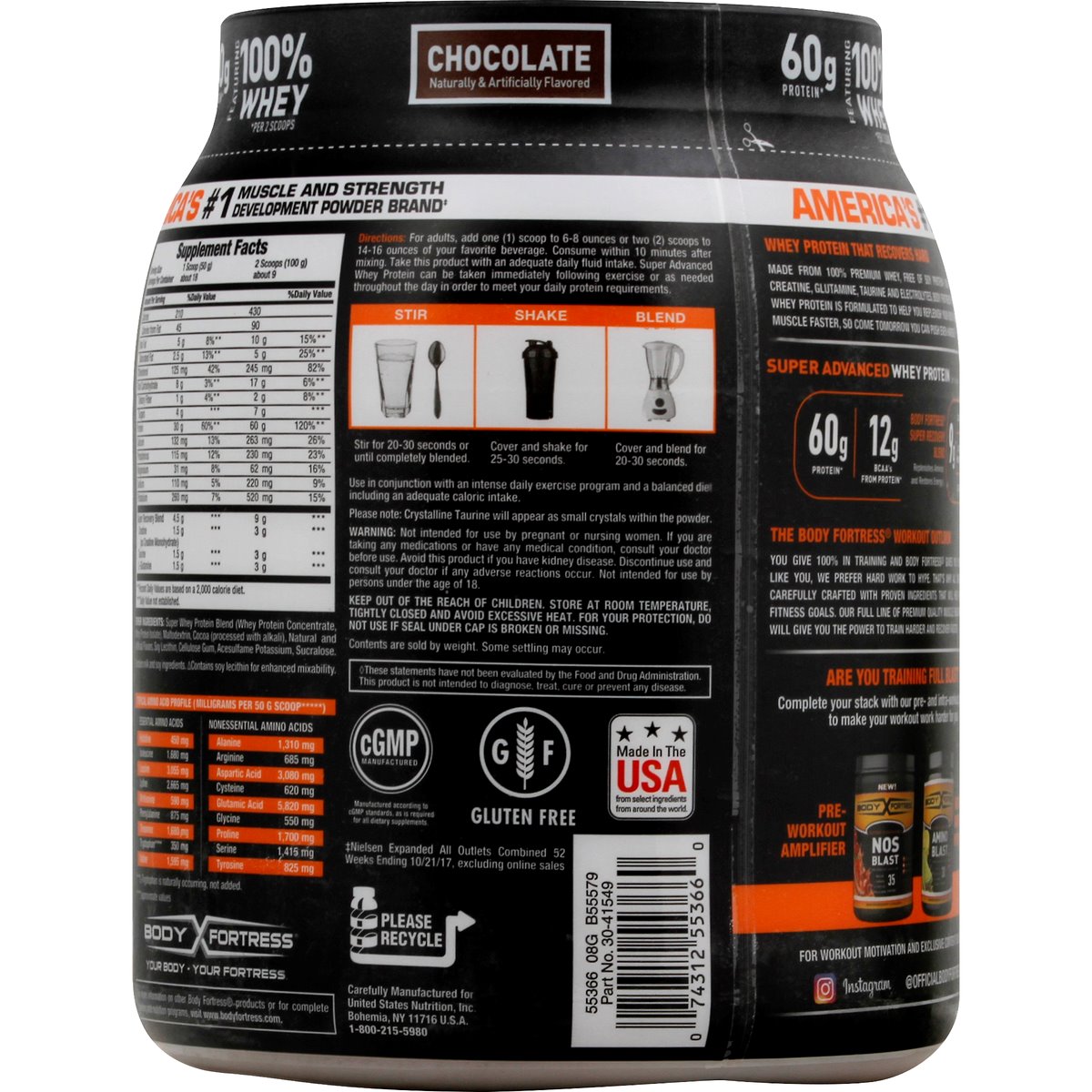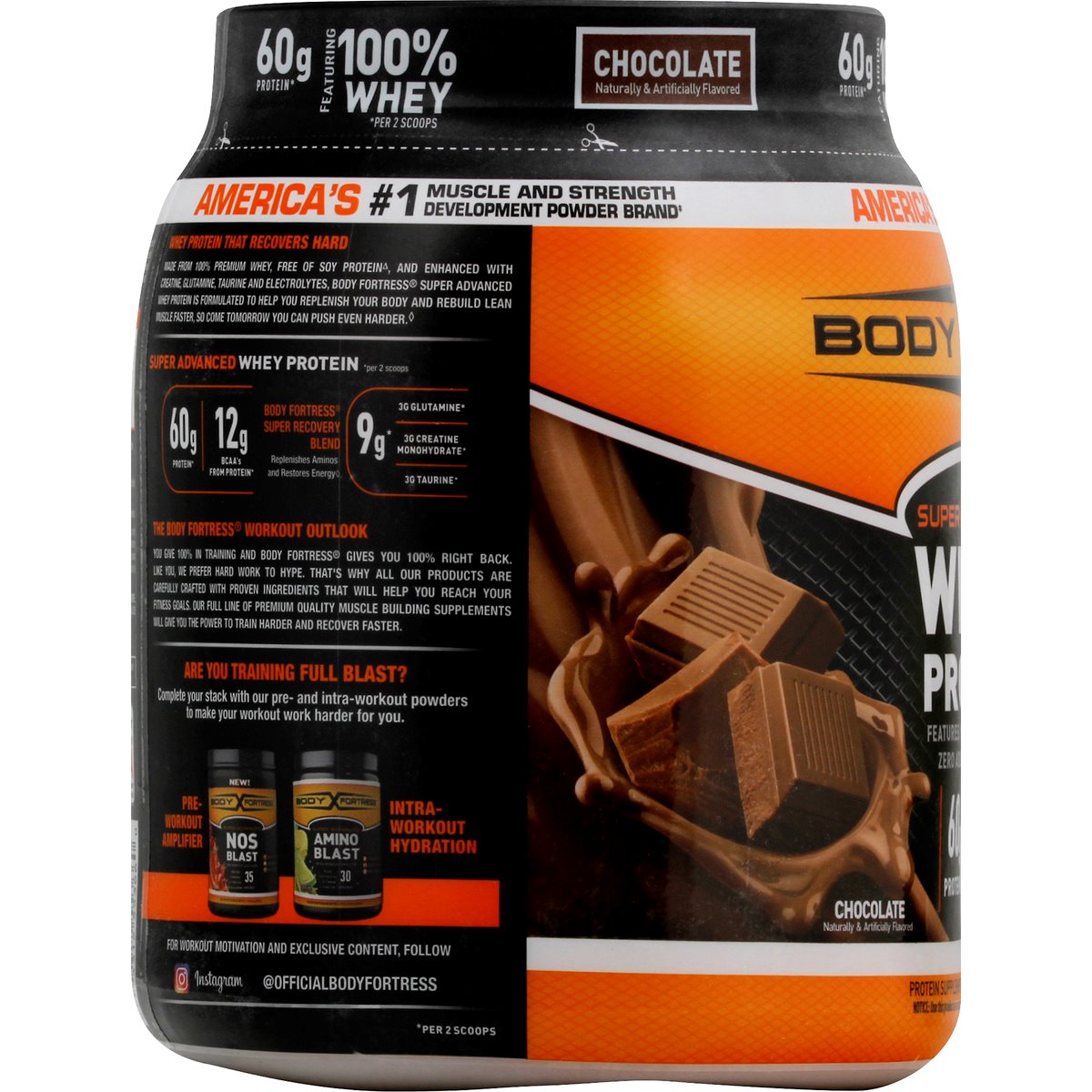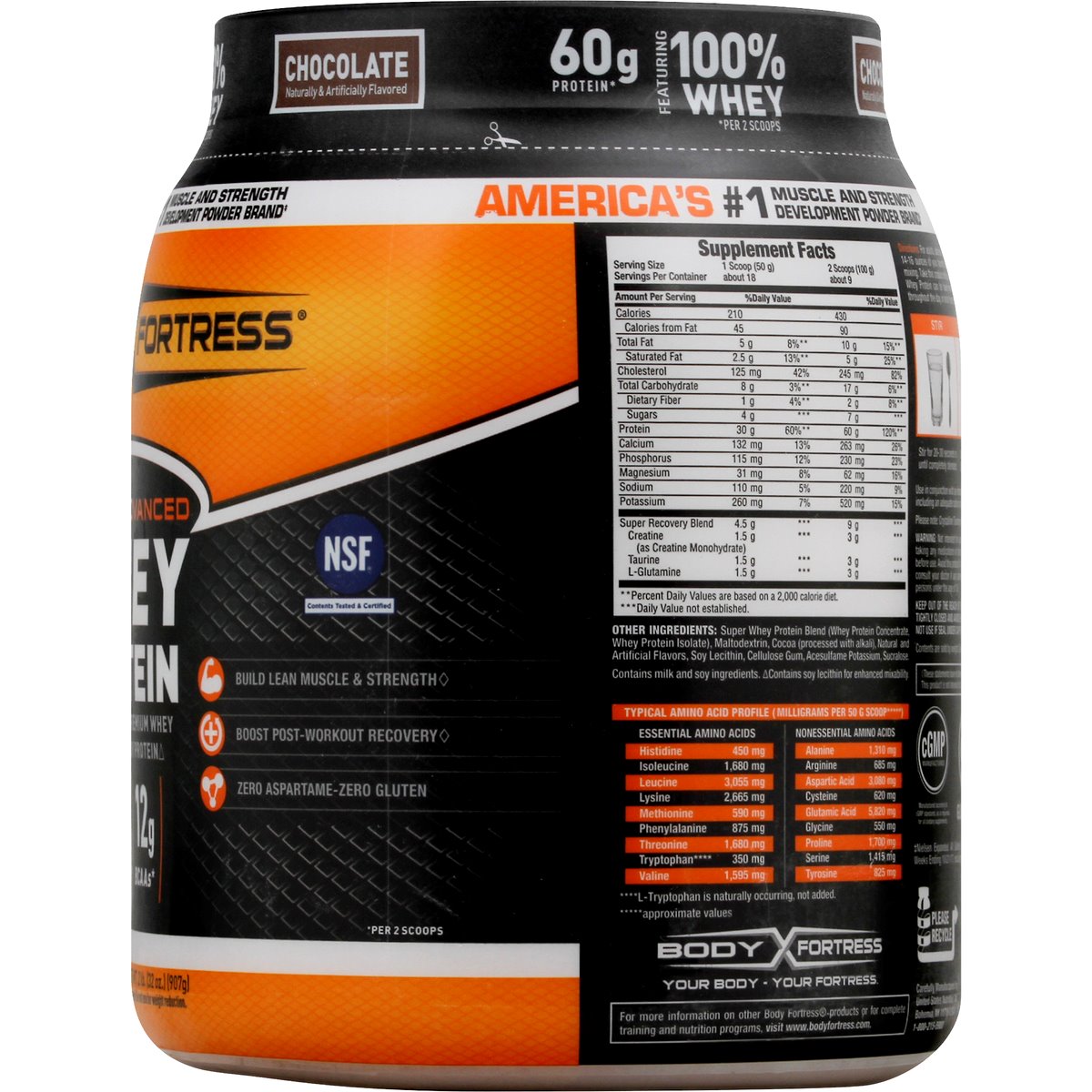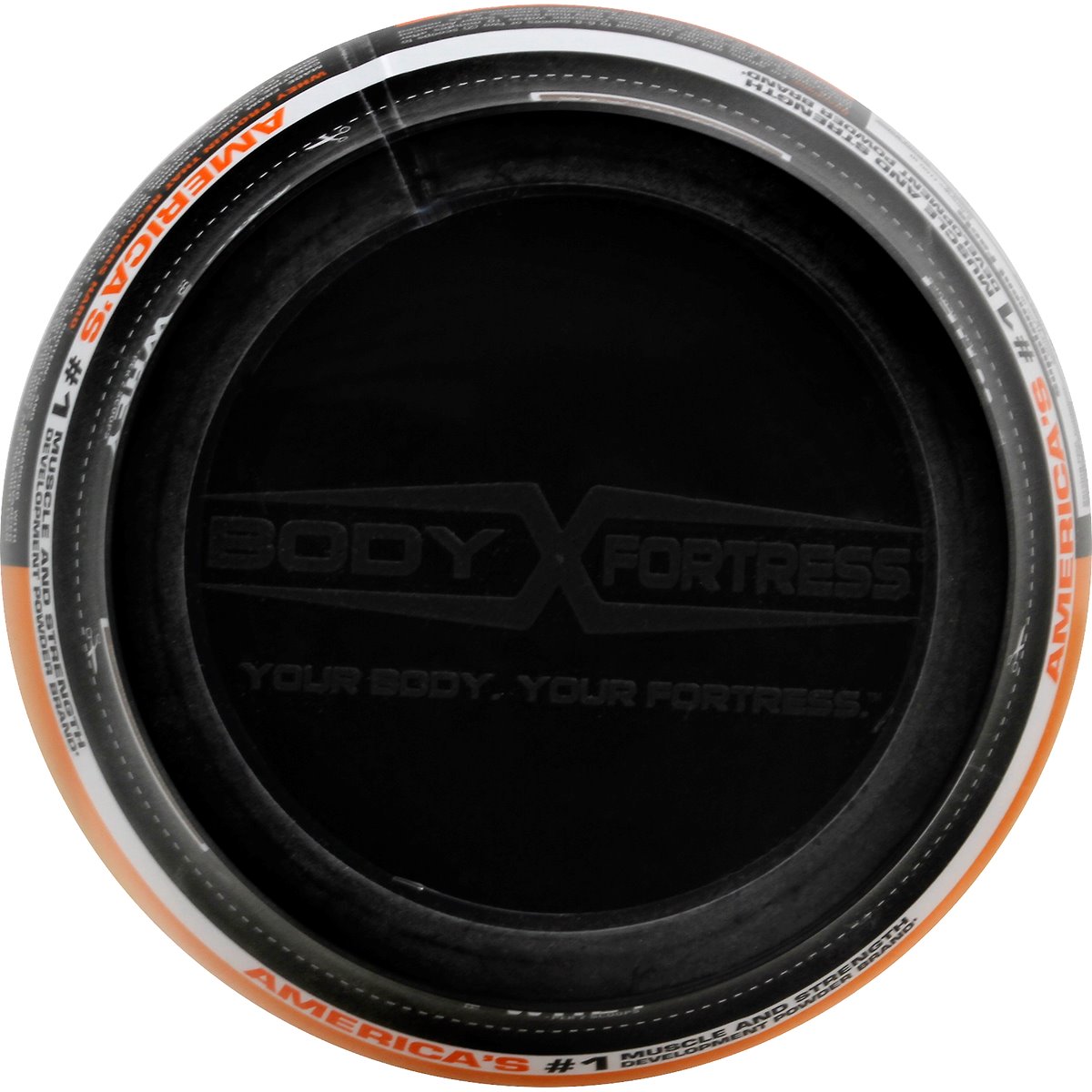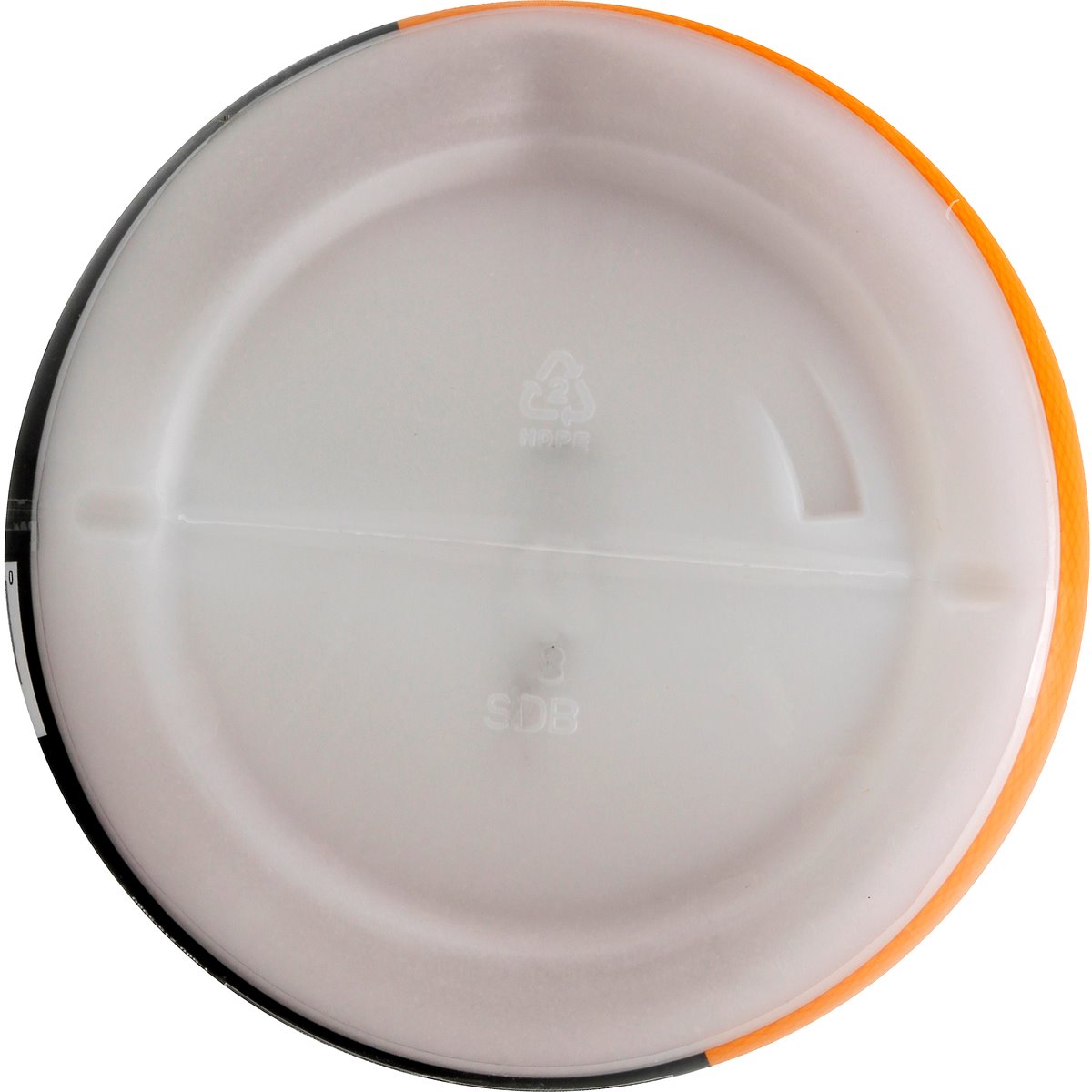 Product Details
Whey Protein, Chocolate, Super Advanced
Protein supplement Naturally & artificially flavored. 60 g protein (per 2 scoops). 12 g BCAAs (per 2 scoops). 9 g (per 2 scoops): 3 g glutamine (per 2 scoops); 3 g creatine monohydrate (per 2 scoops); 3 g taurine (per 2 scoops). Gluten free. Typical Amino Acid Profile (Milligrams per 50 g Scoop [Approximate Values]): Essential Amino Acids: Histidine 450 mg; Isoleucine 1,680 mg; Leucine 3,055 mg; Lysine 2,665 mg; Methionine 590 mg; Phenylalanine 875 mg; Threonine 1,680 mg; Tryptophan (L-Tryptophan is naturally occurring, not added) 350 mg; Valine 1,595 mg. Nonessential Amino Acids: Alanine 1,310 mg; Arginine 685 mg; Aspartic Acid 3,080 mg; Cysteine 620 mg; Glutamic Acid 5,820 mg; Glycine 550 mg; Proline 1,700 mg; Serine 1,415 mg; Tyrosine 825 mg. America's No. 1 muscle strength development powder brand (Nielsen expanded all outlets combined and 52 weeks ending 10/21/17, excluding online sales). Featuring 100% premium whey. Zero aspartame-zero gluten. Please Note: Crystalline Taurine will appear as small crystals within the powder. Contents are sold by weight. Some settling may occur. Whey Protein that Recovers Hard: Made from 100% premium whey, free of soy protein (Contains soy lecithin for enhanced mixability), and enhanced with creatine, glutamine, taurine and electrolytes, body fortress super advanced whey protein is formulated to help you replenish your body and rebuild lean muscle faster, so come tomorrow you can push even harder. Body Fortress Super Recovery Blend: Replenishes aminos and restores energy. The Body Fortress Workout Outlook: You give 100% in training and body fortress gives you 100% right back. Like you, we prefer hard work to hype. That's why all our products are carefully crafted with proven ingredients that will help you reach your fitness goals. Out full line of premium quality muscle building supplements will give you the power to train harder and recover faster. NSF: Contents tested & certified. cGMP Manufactured: Manufactured according to cGMP standards, as is required for all dietary supplements. www.bodyfortress.com. Instagram (at)officialbodyfortress. For more information on other Body Fortress-products or for complete training and nutrition programs, visit www.bodyfortress.com. Are you training full blast? Complete your stack with our pre- and intra-workout powders to make your workout work harder for you. Complete your stack with out pre- and intra-workout powders to make your workout work harder for you. Pre-Workout Amplifier: Body Fortress nos blast. Intra-Workout Hydration: Body Fortress amino blast. Please recycle. (These statements have not been evaluated by the Food and Drug Administration. This product is not intended to diagnose, treat, cure or prevent any disease.) Made in the USA from select ingredients from around the world.
HBC
UPC: 00074312553660