No Yolks No Yolks® Stir Fry Noodles 12 oz. Bag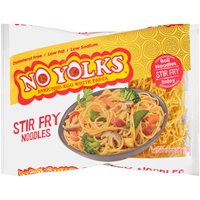 $2.29
340.0 grm.
No Yolks No Yolks® Stir Fry Noodles 12 oz. Bag
Product Details
NO YOLKS STIR FRY NOODLE
Egg noodles are made with egg yolks. NO YOLKS® pasta is made with wheat flour, corn flour and dried egg whites. They do not contain egg yolks. They also do not contain artificial coloring or preservatives. NO YOLKS® pasta has the same taste and texture as egg noodles. NO YOLKS® pasta may be used in any recipe which calls for egg noodles.
UPC: 00071730007416