Roman Meal Bread, Roman Whole Grain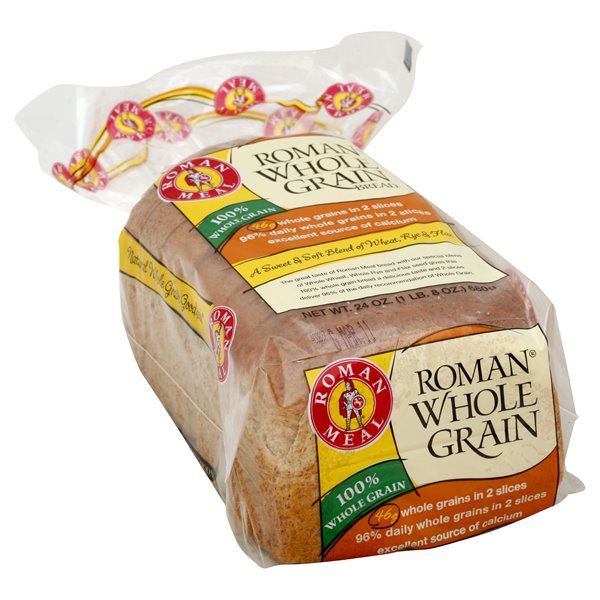 $4.19
24.0 oz.
Roman Meal Bread, Roman Whole Grain
Product Details
Bread, Roman Whole Grain
100% Whole grain. 46 g Whole grain in 2 slices. 96% Daily whole grains in 2 slices. Excellent source of calcium. A sweet & soft blend of wheat, rye & flax. The great taste of Roman Meal Bread with our special blend of whole wheat, whole rye and flax seed gives this 100% whole grain bread a delicious taste and 2 slices deliver 96% of the daily recommendation of whole grain. Natural whole grain goodness. Roman Meal was born in 1912 when Dr. Robert Jackson reversed his tailing health through diet and exercise. Dr. Jackson emulated the ancient Roman centurion's daily menu of whole wheat, whole rye, added bran and flaxseed. The Matthaei family, with bread-baking heritage dating back to the 1800's, purchased the formula in 1927 to include in their breads and cereals. With a strong commitment to health and whole grains, Roman Meal Company continues to make breads that are healthy and taste great. The Whole Grain: Bran protects seed: fiber, B vitamins, trace minerals; Flora provides energy carbohydrates, protein, B vitamins; Germ provides nourishment phytonutrients, Vitamin E, B Vitamins, antioxidants. Roman Meal bakes all of their bread varieties with whole wheat or whole grains as the first ingredient. The health benefits of whole grains come from the fiber, vitamins, minerals, phytonutrients and antioxidants which work together to reduce the risk of chronic diseases. Eating a variety of whole grains each day will help ensure that you get the nutrients needed to stay healthy. A good way to get whole wheat and whole grains in part of your daily diet is to enjoy them in a great tasting loaf of Roman Meal bread. 100% Whole Grain: 23 g or more per serving. Eat 48 g or more of whole grains daily. Roman Meal Company is proud to be a founding member of the Whole Grains Council. We dedicate ourselves to producing nutritious and great-tasting whole grain foods.
A1
UPC: 00071319000272