3M Air FilterAir Filter, Electrostatic, Allergen Defense 1000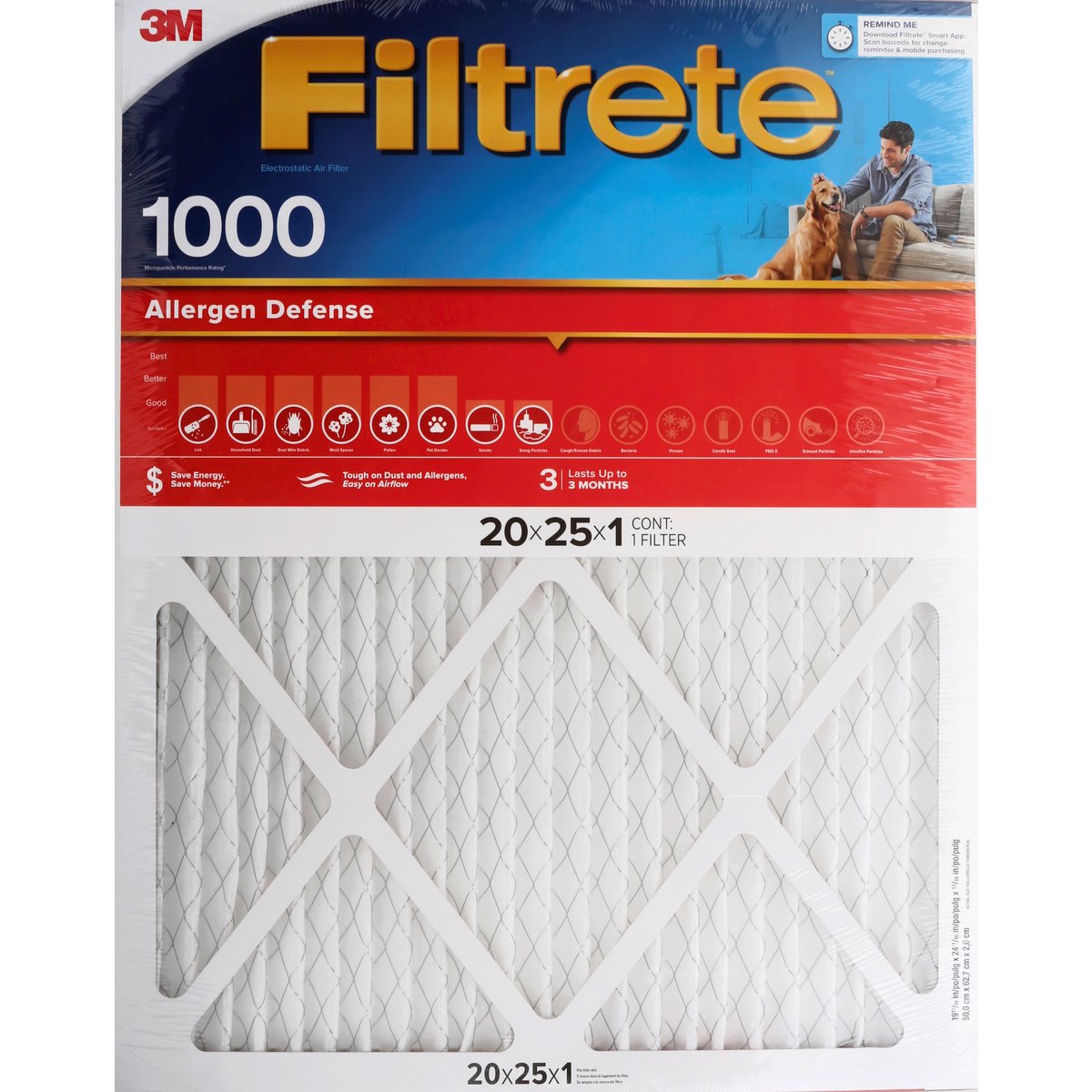 $16.48
1.0 ea.
3M Air FilterAir Filter, Electrostatic, Allergen Defense 1000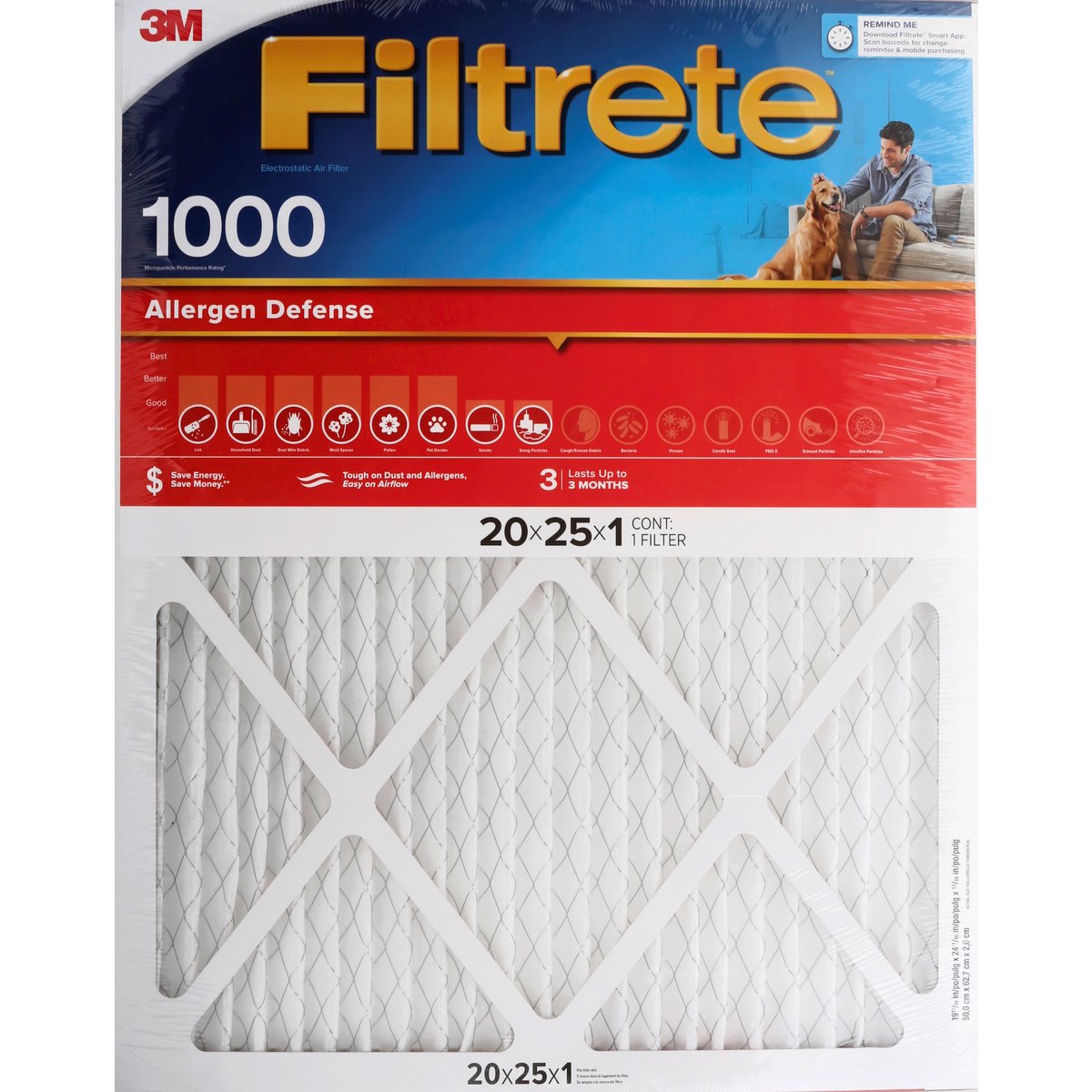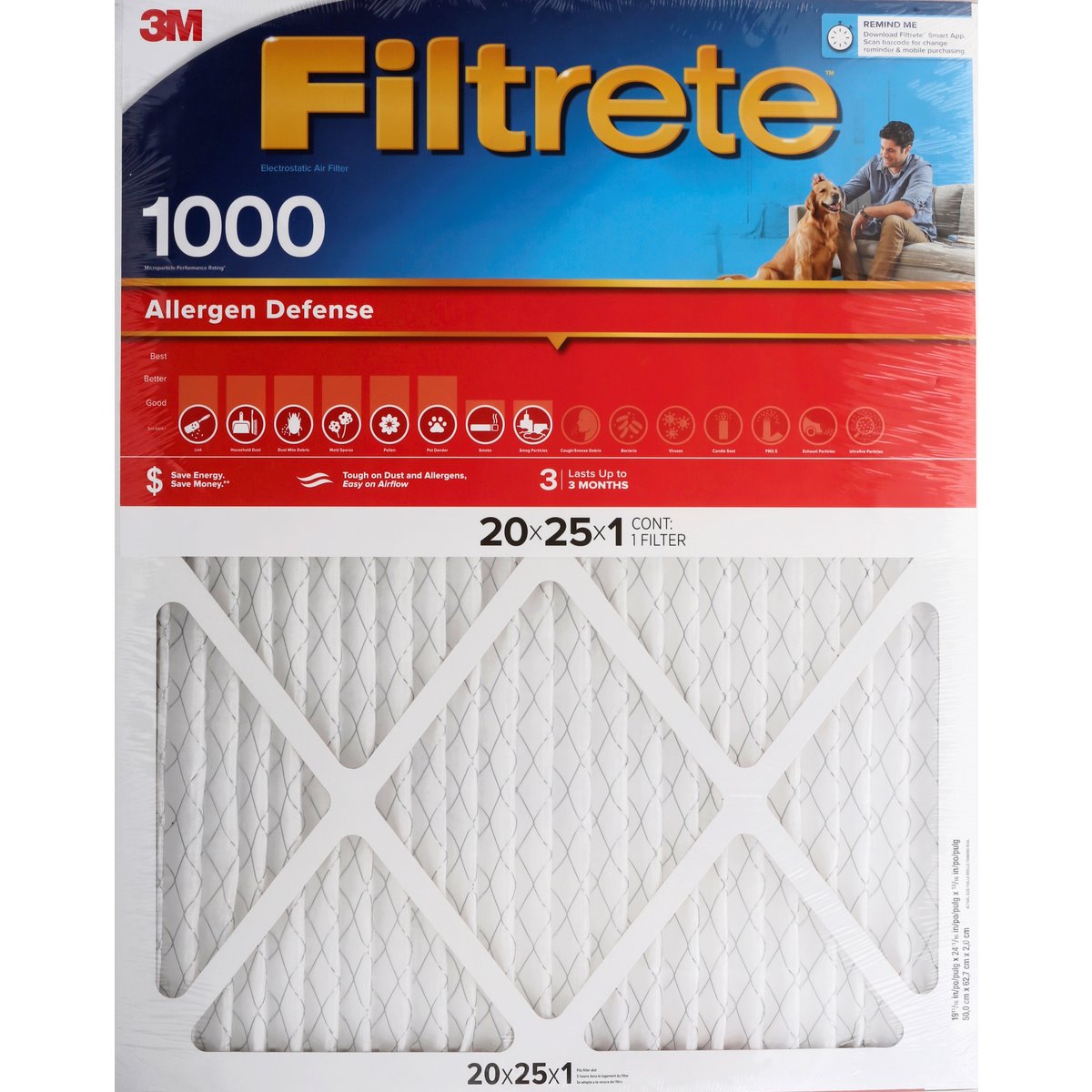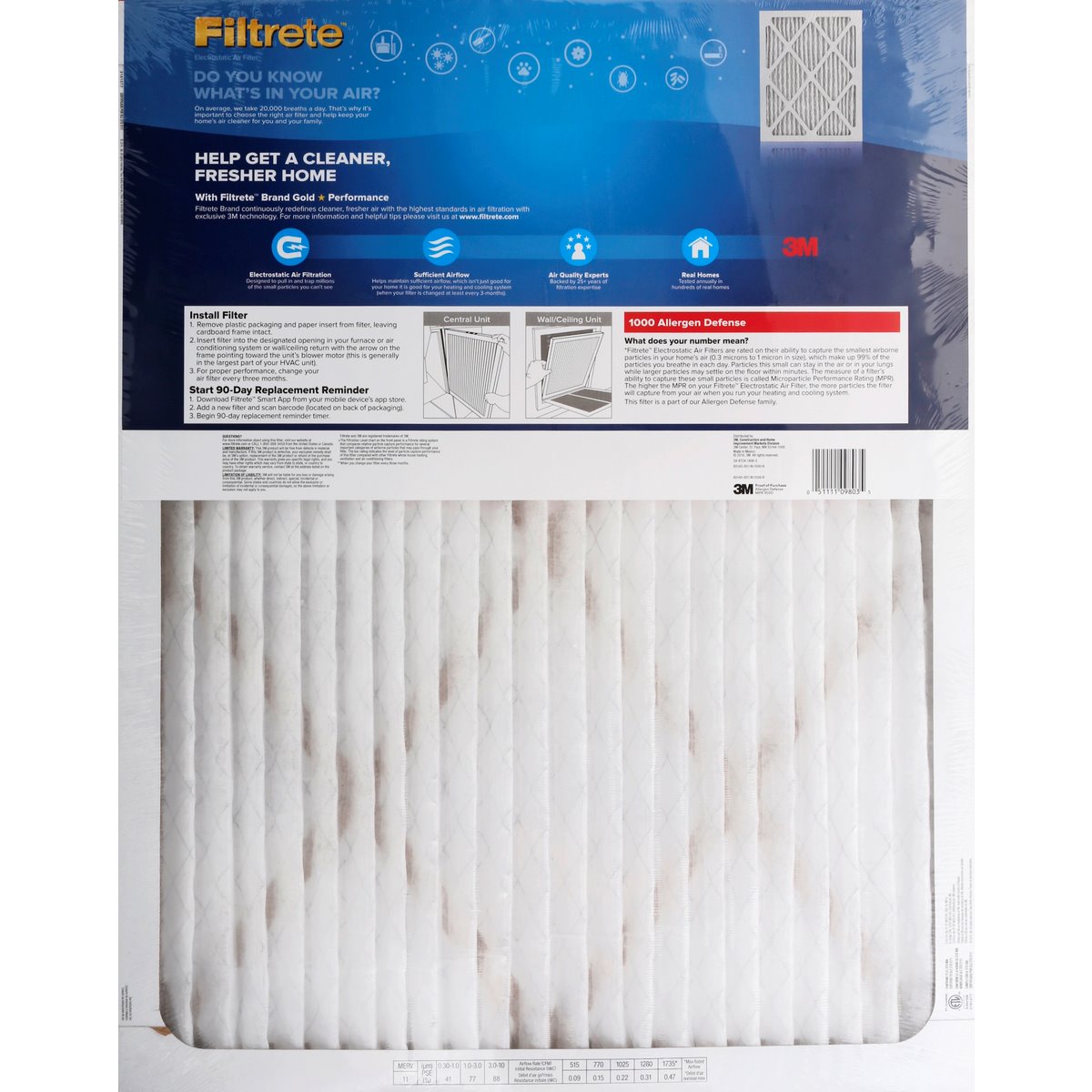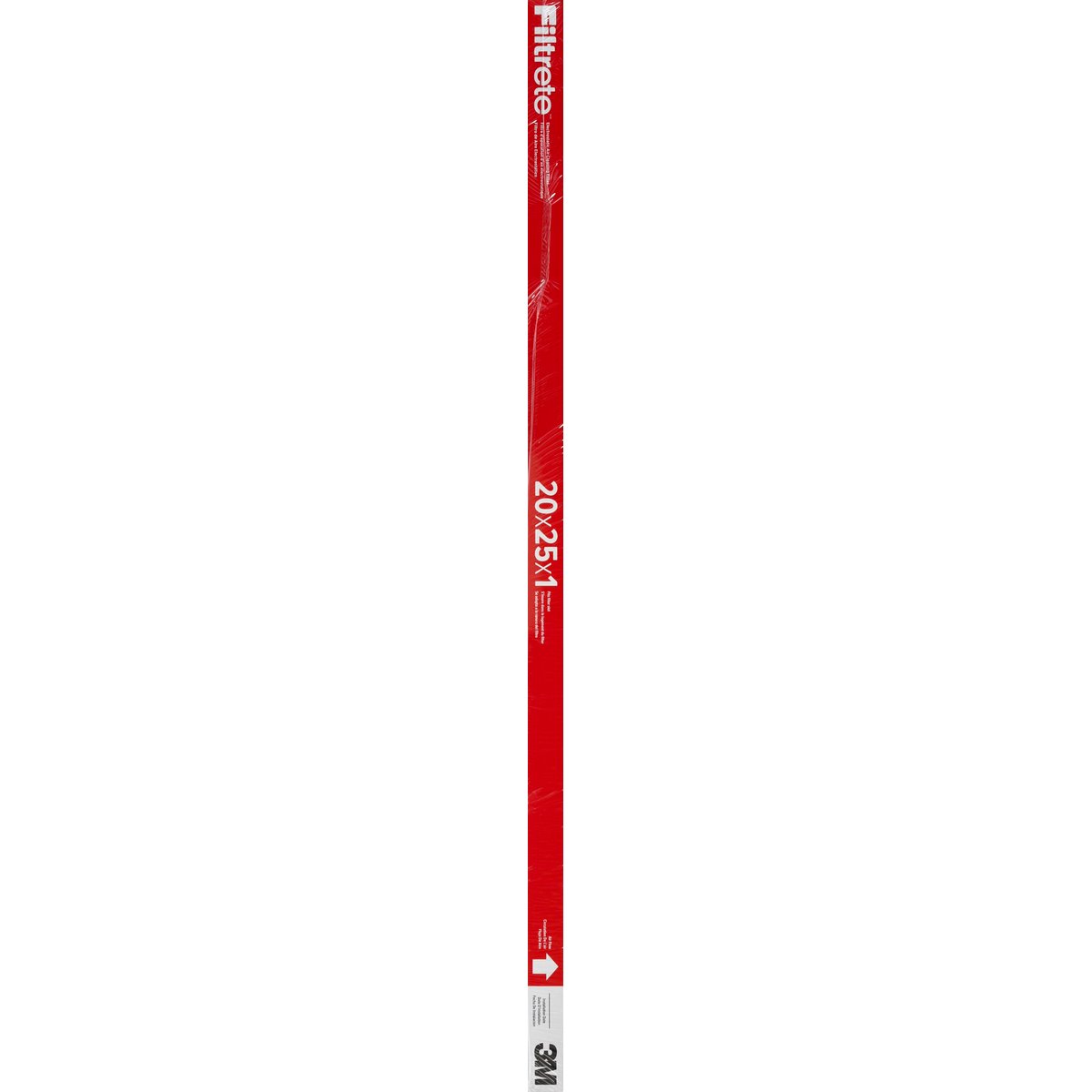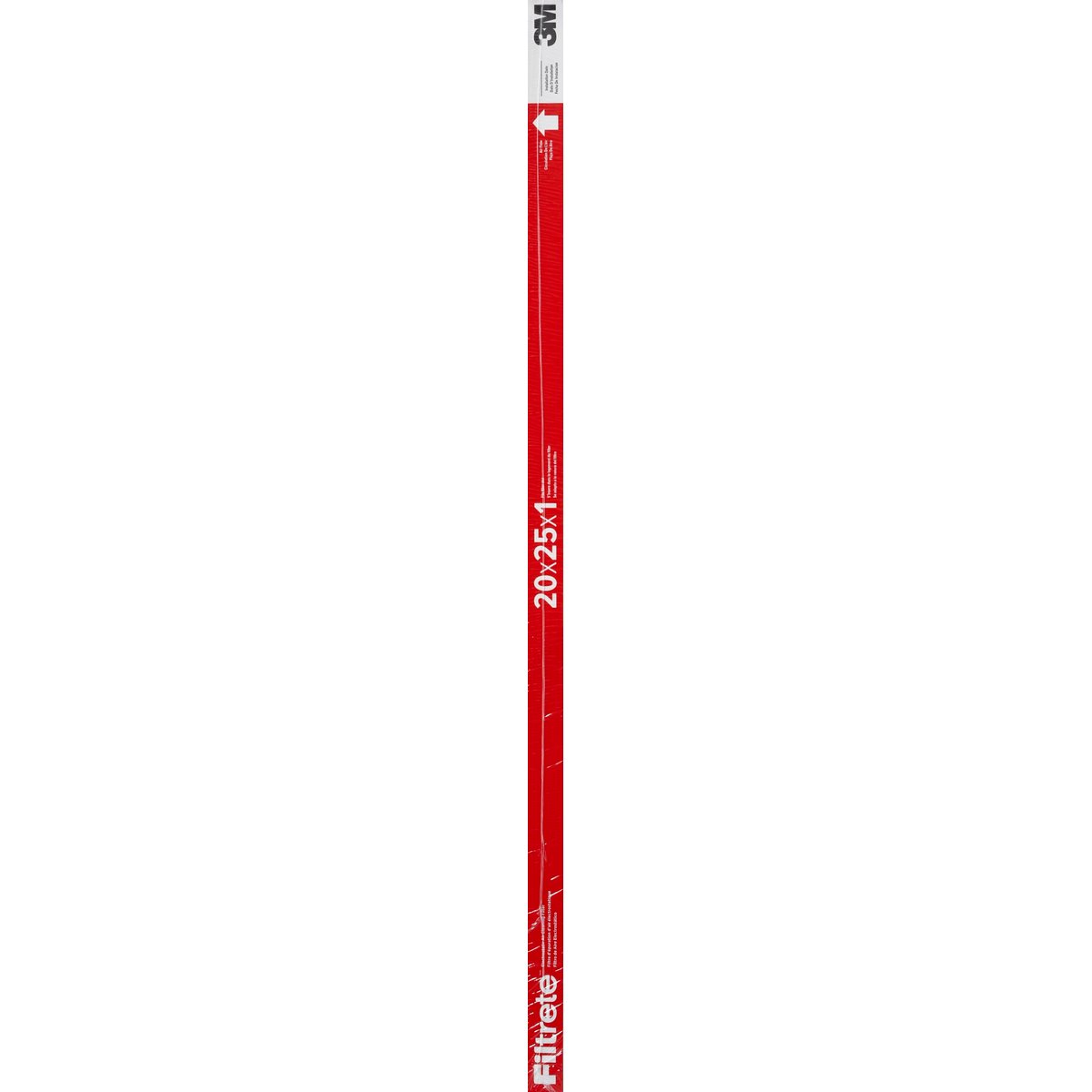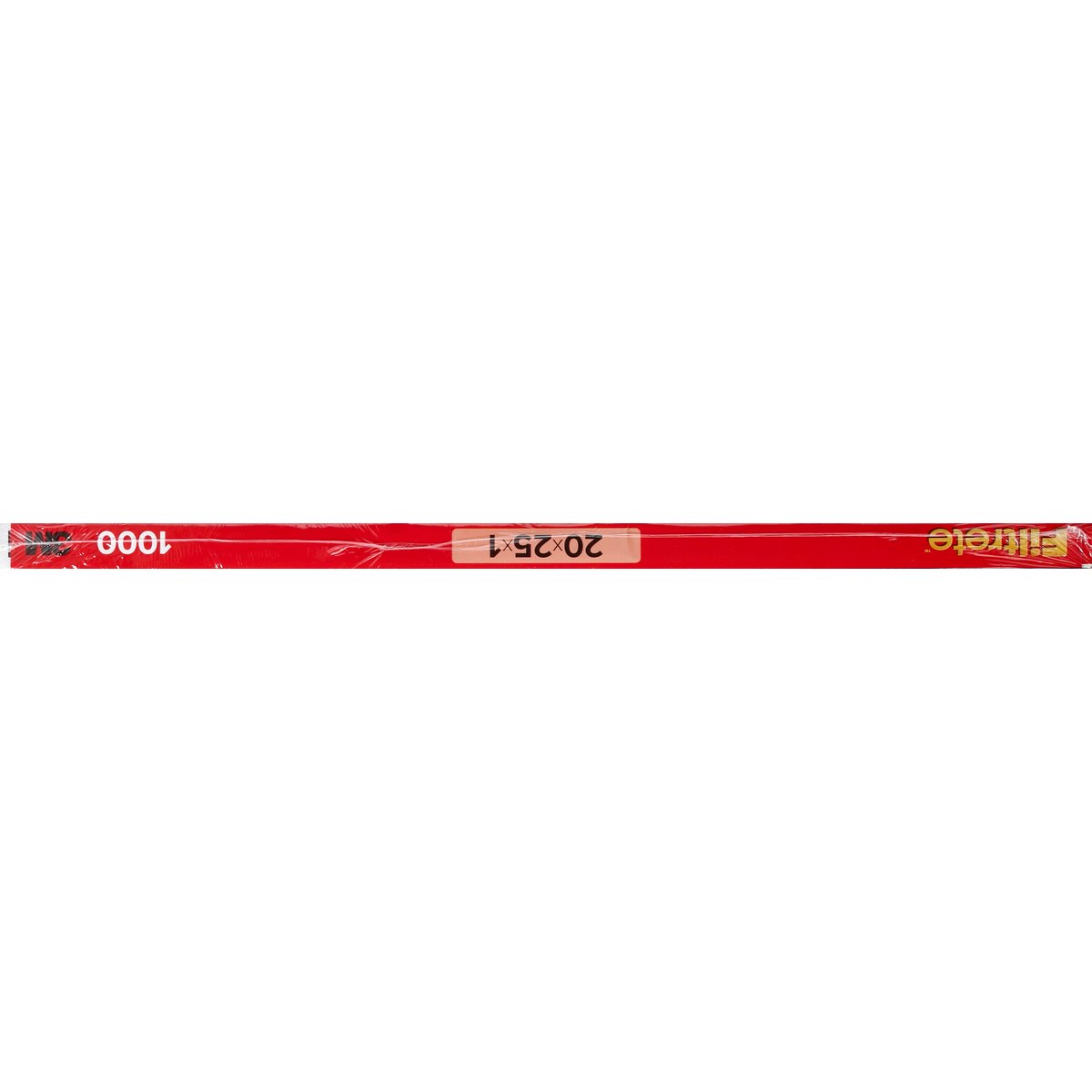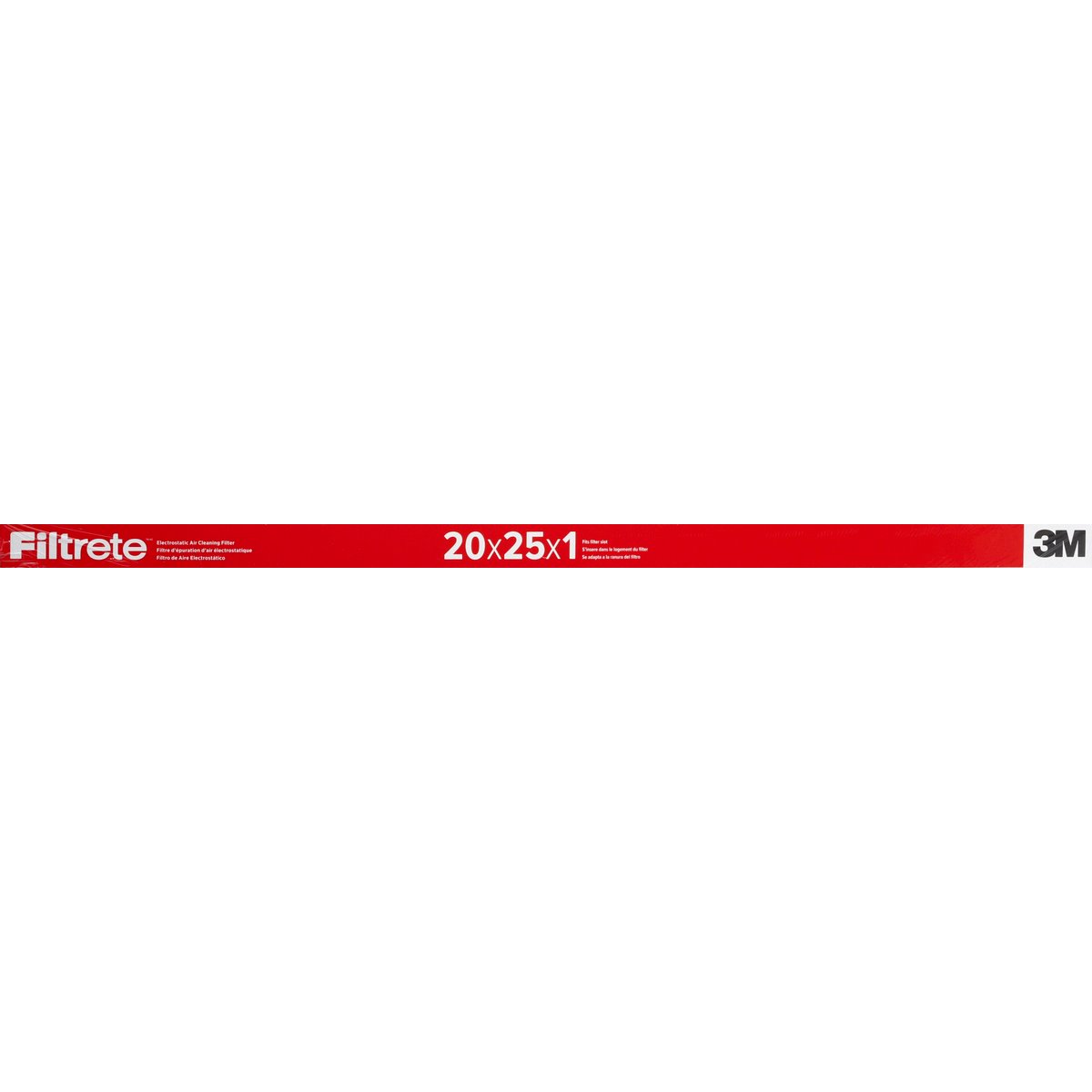 Product Details
Air FilterAir Filter, Electrostatic, Allergen Defense 1000
19-11/16 in x 24-11/16 in x 13/16 in (50.0 cm x 62.7 cm x 2.0 cm). 20x25x1. Cont: 1 filter. Save energy. Save money (When you change your filter every three months). Last up to 3 months. Best. Better. Good. Lint. Household dust. Dust mite debris. Mold spores. Pollen. Pet dander. Smoke. Smog particles. Cough/sneeze debris. Bacteria. Viruses. Candle soot. Pm2.5. Exhaust particles. Ultrafine particles. Remind Me: Download Filtrete smart app. Scan barcode for change reminder & mobile purchasing. Fits filter slot. Do you know what's in your air? On average, we take 20,000 breaths a day. That's why it's important to choose the right air filter and help keep your home's air cleaner for you and your family. Helps get a cleaner, fresher home. With Filtrete brand fold performance. Filtrete brand continuously redefines cleaner, fresher air with highest standards in air filtration with exclusive 3M technology. For more info and helpful tips please visit us at www.filtrete.com. Electrostatic Air Filtration: Designed to pull in and trap millions of the small particles you can't see. Sufficient Airflow: Helps maintain sufficient airflow, which isn't just good for your home it is good for your heating and cooling system (when your filter is changed at least ever 3-months). Air Quality Experts: Backed by 25+ years of filtration expertise. Real Homes: Tested annually in hundreds of real homes. Start 90-Day Replacement Reminder 1. Download Filtrete Smart App from your mobile device's app store. 2. Add a new filter and scan barcode (located on back of packaging). 3. Begin 90-day replacement reminder timer. 1000 Allergen Defense: What does your number mean? Filtrete Electrostatic Air Filters are rated on their ability to capture the smallest airborne particles In your home's air (0.3 microns to 1 micron in size), which make up 99% of the particles you breathe In each day. Particles this small can stay In the air or In your lungs while larger particles may settle on the floor within minutes. The measure of a filter's ability to capture these small particles is called Micro particle Performance Rating (MPR). The higher the MPR on your Filtrete- Electrostatic Air Filter, the more particles the filter will capture from your air when you run your heating and cooling system. This filter is a part of our Clean Living family. The Filtration Level chart on the front panel is Filtrete rating system that compares relative particle capture performance for several important categories of airborne particles that may pass through your filter. The bar rating indicates the level of particle capture performance of this filter compared with other Filtrete whole house heating, ventilation and air conditioning filters. Questions? For more information using this filer, visit our website at www.filtrete.com or call 1-800-388-3458 from the United States or Canada. Limited Warranty: This 3M product will be free from defects in material and manufacture. If this 3M product is defective, your exclusive remedy shall be, at 3M's option, replacement of the 3M product or refund of the purchase price of 3M product. This warranty gives you specific legal rights, and you may have other rights which may vary from state to state, or country to country. To obtain warranty service, contact 3M at the address listed on the product package. Limitation of Liability: 3M will not be liable for any loss or damage arising from this 3M product, whether direct, indirect, special, incidental or consequential. Some stats and countries do not allow the exclusion or limitation of incidental or consequential damages, so the above information or exclusion may not apply to you. Made in Mexico.
UPC: 00051111098035