Filtrete Air Cleaning Filter, Electrostatic, Basic Dust, 16 x 25 x 1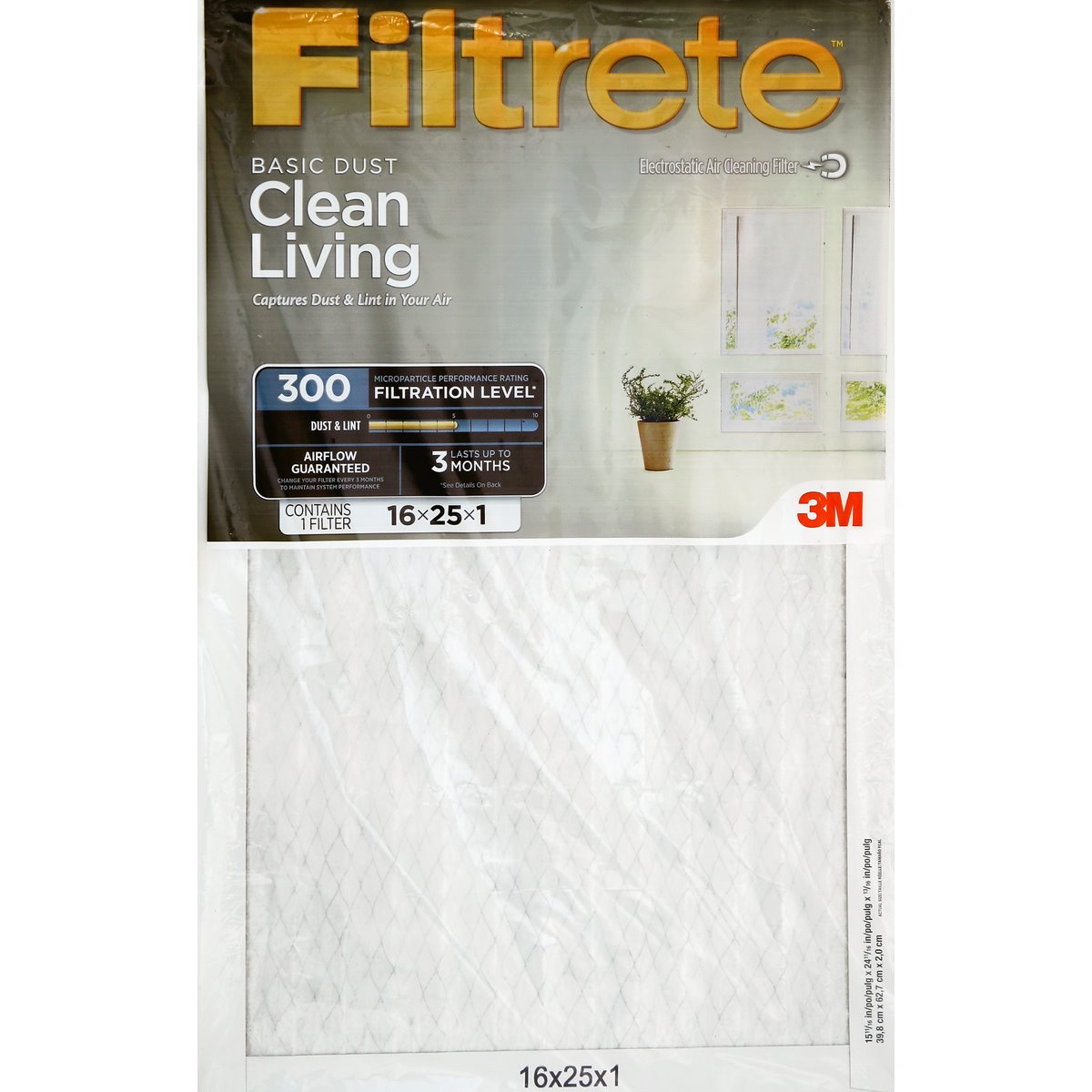 $5.98
1.0 ea.
Filtrete Air Cleaning Filter, Electrostatic, Basic Dust, 16 x 25 x 1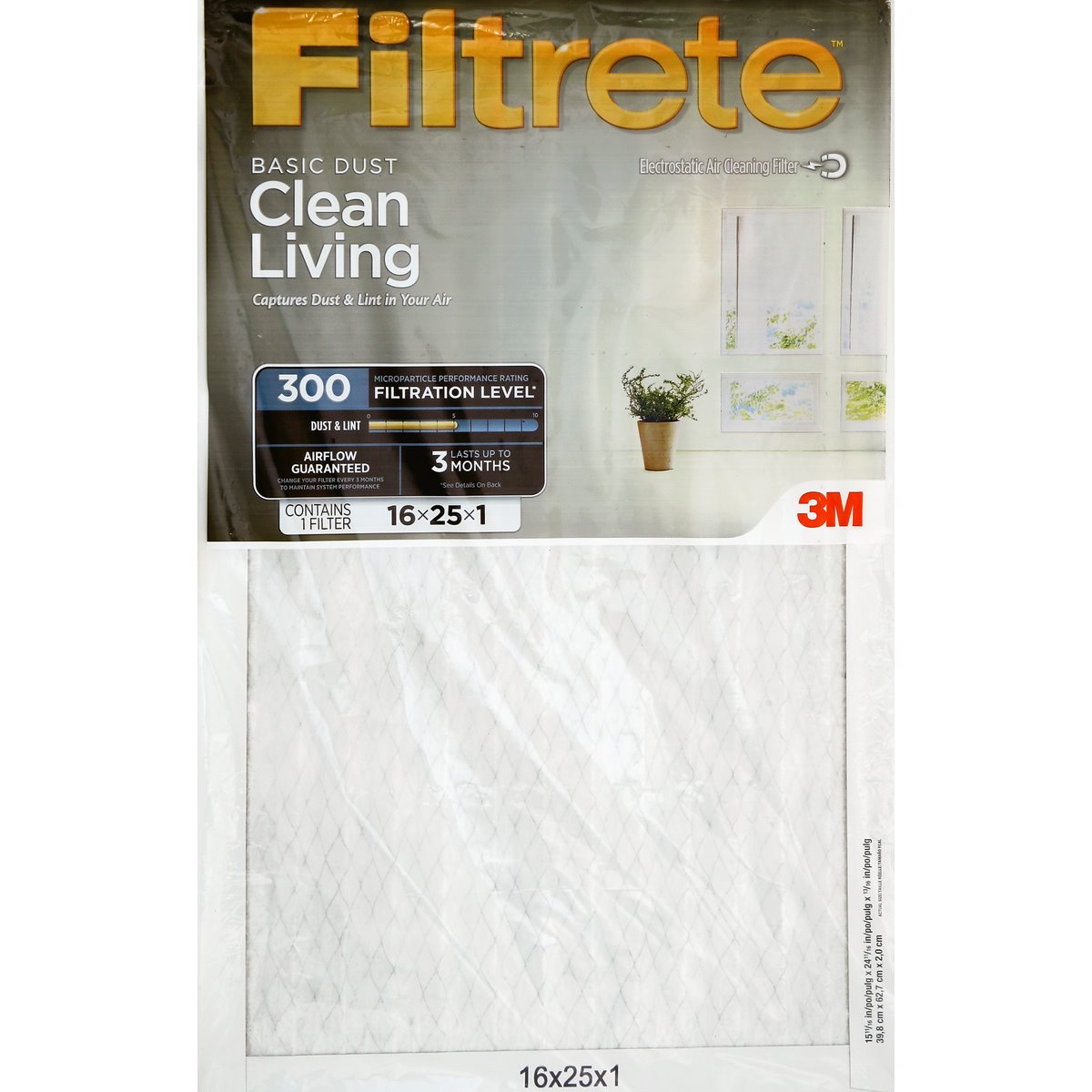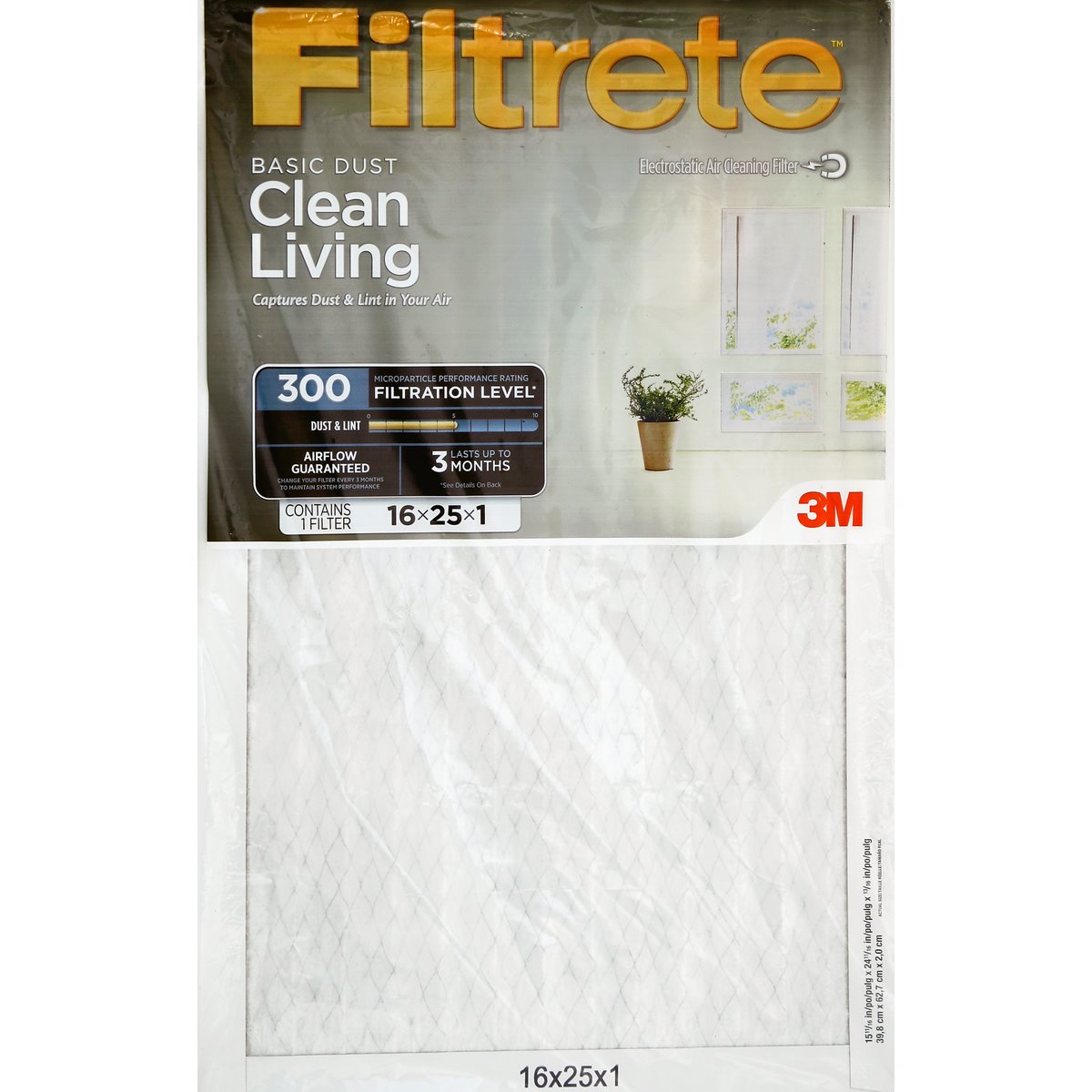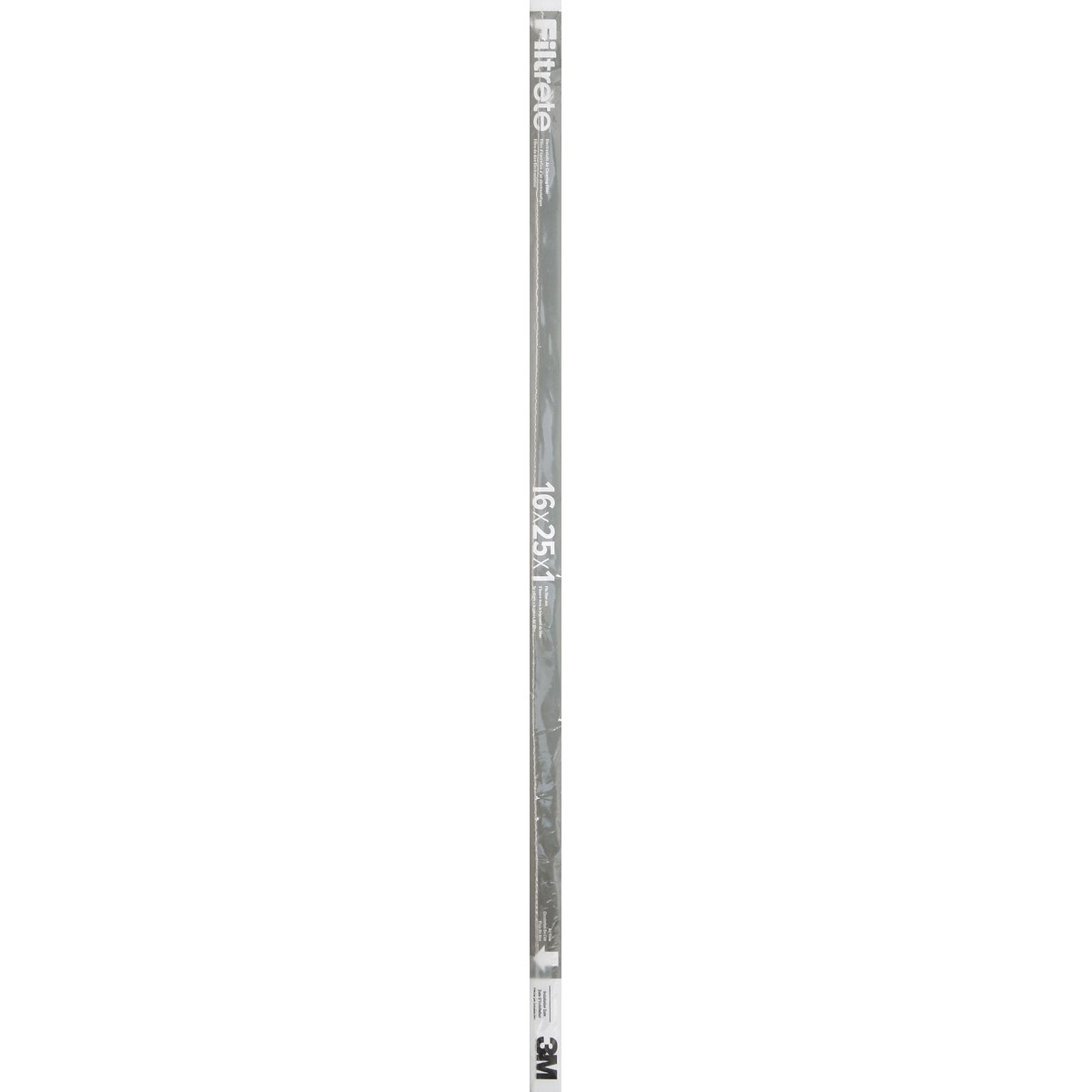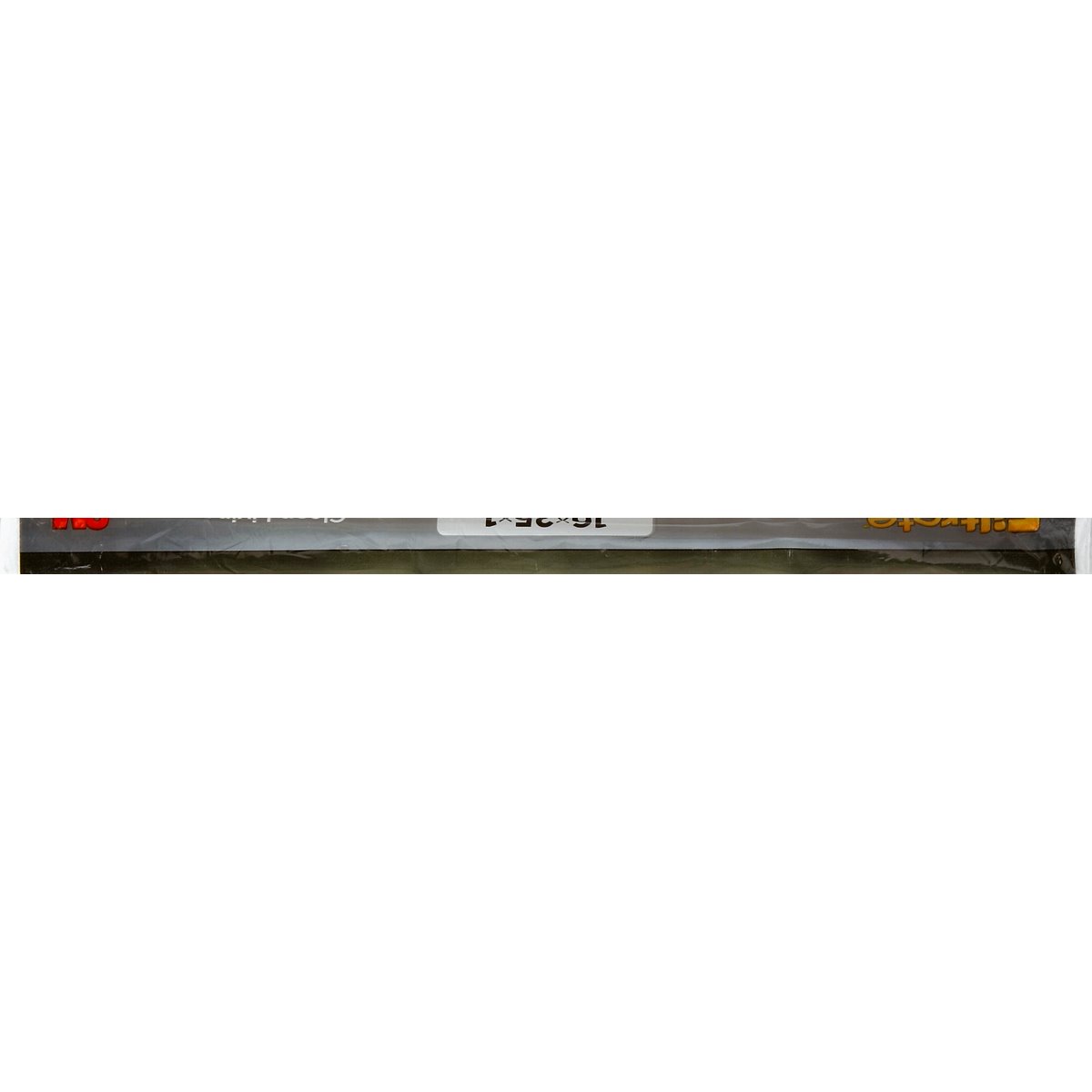 Product Details
Air Cleaning Filter, Electrostatic, Basic Dust, 16 x 25 x 1
15-11/16 in x 24-11/16 in x 13/16 in (39.8 cm x 62.7 cm x 2.0 cm). Captures dust & lint in your air. Microparticle Performance Rating Filtration Level (The Filtration Level chart on the front panel is a Filtrete rating system that compares relative particle capture performance for several important categories of airborne particles that may pass through your filter): 300. Dust & lint. Airflow Guaranteed: Change your filter every 3 months to maintain system performance. Lasts up to 3 months. Clean Living: When it comes to your home, you expect thing to be neat and clean. You take steps to keep your home clean and in order. Unlike ordinary pleated filters, Filtrete Clean Living filters are electrostatically charged to capture more dust & lint and keep it out of your air. For maximum performance, change your filter every 90 days. Finding the Filter that Fits Your Life: Clean Living: Protects your HVAC system from household dust + lint + dust mite debris + mold spores. All of these Filtrete filters are electrostatically charged to attract and capture microscopic airborne particles. Holmes approved products. The most important systems in your home are the ones you don't see. That includes the systems that control the air your family breathes. Filtrete Brand air filters by 3M are engineered to improve the quality of the air inside your home. I trust Filtrete filters to help clean the air on my jobsite and in my home. You can trust them to do the same for you. Accept no substitute. - Mike Holmes, America's Most Trusted Contractor. When to Change Your Filter: Change your filter every three months. Certain conditions in your home will significantly add particles to the air, and potentially reduce the life of the filter. These conditions include construction work, pets and tobacco smoke. Helpful Filter Change Reminders: Peel off sticker and use as reminder. Or scan this QR Code with your Smartphone or visit Filtrete.com for a filter change reminder! For more information and helpful tips please visit us at www.filtrete.com. Questions? For more Information about using this filter, visit our website at www.filtrete.com or call 1-800-388-3458 from the United States or Canada. Limited Warranty: This 3M product will be free from defects in material and manufacture. If this 3M product is defective, your exclusive remedy shall be, at 3M's option, replacement of the 3M product or refund of the purchase price of the 3M product. This warranty gives you specific legal rights, and you may have other rights which may vary from state to state, or country to country. To obtain warranty service, contact 3M at the address listed on the product package. Limitation of Liability: 3M will not be liable for any loss or damage arising from this 3M product whether direct, indirect, special, incidental or consequential. Some states and countries do not allow the exclusion or limitation of incidental or consequential damages, so the above limitation or exclusion may not apply to you. Certified asthma & allergy friendly. Meets ASP-08-03 standard for HVAC furnace filters. ETL classified. Intertek. Conforms to UL STD 900. Certified to ULC STD S111. MERV: 5. 0.3-1.0 (micro m) PSE 12%. 1.0-3.0 (micro m) PSE 38%. 3.0-10 (micro m) PSE 34%. Airflow Rate (CFM): 330 Initial Resistance (IWC): 0.10. Airflow Rate (CFM): 410 Initial Resistance (IWC): 0.09. Airflow Rate (CFM): 615 Initial Resistance (IWC): 0.16. Airflow Rate (CFM): 820 Initial Resistance (IWC): 0.23. Airflow Rate (CFM): 1025 Initial Resistance (IWC): 0.32. Airflow Rate (CFM): 1390 (Max rated airflow) Initial Resistance (IWC): 0.48. Made in USA with globally sourced materials.
UPC: 00051111020692