Concord Foods Seasoning Mix, Salsa, Mild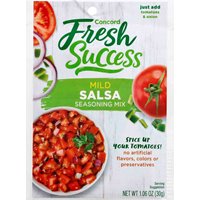 $1.50
1.1 oz.
Concord Foods Seasoning Mix, Salsa, Mild
Product Details
Seasoning Mix, Salsa, Mild
Just Add: Tomatoes & onion. Mix our authentic blend of peppers, garlic and Mexican seasonings with ripe tomatoes and diced onion to create a fresh and flavorful salsa. Serving Suggestion: Fruit Salsa: Combine 1 pouch of salsa mix with 2 cups chopped fruit. Mangos, peaches, pineapples, oranges and papayas work well. Chill for 30 minutes, stir and serve. The makers of fine products in the produce department. Visit our website for great recipes! www.concordfoods.com.
Produce
UPC: 00041409002295