Blistex Lip Balm, Medicated, SPF 15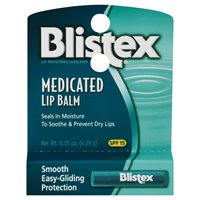 $1.49
0.2 oz.
Blistex Lip Balm, Medicated, SPF 15
Product Details
Lip Balm, Medicated, SPF 15
Other Information: Protect the product in this container from excessive heat and direct sun. Misc: Lip protectant/Sunscreen. Smooth easy-gliding protection. Seals in moisture to soothe & prevent dry lips. Blistex lip balm helps prevent dryness and chapping. Its easy glide formula also soothes irritated lips. Dry, Chapped Lips: Blistex Lip Balm contains three long-lasting protectants, and it seals in moisture to alleviate dryness and prevent occurrence. It also glides on comfortably to provide complete coverage and avoid further irritation of chapped lips. Card is 100% recyclable. Satisfaction guaranteed.
HBC
UPC: 00041388220611