After-Work Beef Pot Roast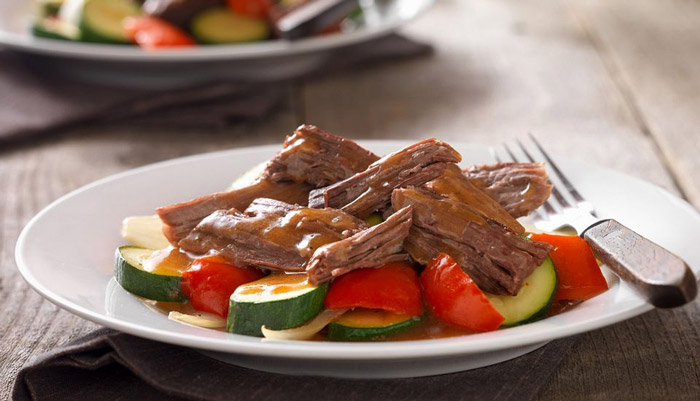 Prep Time: 15 minutes
Cook Time: 600 minutes
Total Time: 615 minutes
Servings: 8
Savor the delightfully simple yet delectable After-Work Beef Pot Roast, which, after a long day, invites you to indulge in its rich flavors, all while boosting your immune system with a hearty dose of essential zinc.
Directions
Step 1
Press dressing mix evenly onto all surfaces of beef Bottom Round Rump Roast. Place onions and garlic in 4-1/2 to 5-1/2-quart slow cooker; top with roast. Add bell peppers and broth.
Step 2
Cover and cook on HIGH 5 hours or LOW 8 hours. Add zucchini. Continue cooking, covered, 30 minutes or until pot roast is fork-tender.
Step 3
Remove roast and vegetables. Strain cooking liquid; skim fat. Combine 2 cups cooking liquid and cornstarch mixture in medium saucepan. Bring to a boil, stirring constantly; cook and stir 1 minute or until thickened.
Step 4
Carve roast into slices; season with salt and pepper, as desired. Serve with vegetables and gravy.
Cook's Notes
Alternate Cooking Method: This recipe can be made in a 6-quart electric pressure cooker. Press dressing mix evenly onto all surfaces of beef Bottom Round Roast. Place beef and 1/2 cup broth in pressure cooker. Close and lock pressure cooker lid. Use meat, stew or high-pressure setting on pressure cooker; program 60 minutes on pressure cooker timer. Use quick-release feature to release pressure; carefully remove lid. Add onions, peppers and garlic in pressure cooker. Close and lock pressure cooker lid for additional 30-minute cook. Use quick-release feature to release pressure; carefully remove lid. Remove 2 cups liquid and place in saucepan. Add zucchini to pressure cooker; close and lock lid. Use meat, stew or high-pressure setting on pressure cooker; program 3 minutes on pressure cooker timer. Use quick-release feature to release pressure; carefully remove lid. Continue as directed in step 2 to prepare sauce. (This recipe variation was tested in an electric pressure cooker at high altitude. Cooking at an altitude of less than 3000 feet may require slightly less cooking time. Refer to the manufacturer's instructions.)