Spicy Cantaloupe Margarita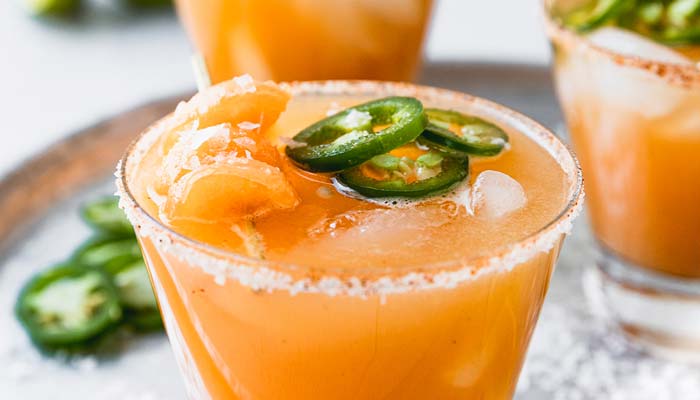 Prep Time: 15 minutes
Servings: 4
Savor the taste of summer with this Spicy Cantaloupe Margarita, a refreshing blend of fresh cantaloupe, zesty lime juice, fiery jalapeño, and smooth tequila.
Directions
Step 1
Stir together 1/4 cup kosher salt and 1 tsp of chili powder. Place on a small plate. Take a lime or bit of water and run it around the rim of the glass. Dip the rim of the glass into the salt mixture to coat, turning the glass to cover the rim completely.
Step 2
In a blender, add 1 diced cantaloup, 1 small sliced jalapeno (without seeds), and 3 Tbsp fresh lime juice. Blend on high for 1-2 minutes until pureed together. Strain the mixture to remove pulp. Set aside.
Step 3
Add ice to each prepared glass. Pour 1.5-2 ounces of tequila over the ice.
Step 4
Add 4 ounces of cantaloupe and jalapeno juice mixture to each glass and stir to combine.