Easy Chicken Enchiladas with Black Beans & Corn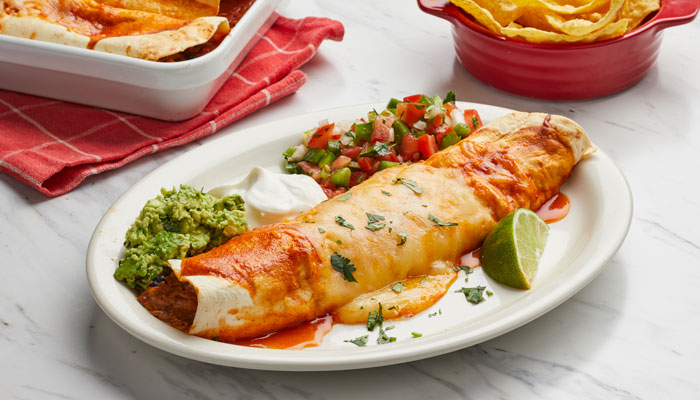 Prep Time: 30 minutes
Cook Time: 30 minutes
Total Time: 60 minutes
Servings: 4
Easy Chicken Enchiladas with Black Beans & Corn is an easy meal to make at home that everyone will enjoy. Tender, juicy chicken breast is seasoned quickly and easily with a taco seasoning pack, then paired with hearty black beans and sweet corn, all nestled inside warm, fluffy tortillas. With every bite, you'll savor the mouthwatering combination of flavors and textures, making this dish a surefire hit for any occasion.
Directions
Step 1
To cook the chicken: Place the chicken breasts in the bottom of a large pot, cover the chicken with 1 inch of water. Bring to boil then reduce heat to simmer until chicken reaches an internal temperature of 165°F, about 8 to 16 minutes. Remove from water to cool, shred.
Step 2
Preheat oven to 350°; lightly coat large rectangular casserole dish or baking sheet with Food Club Nonstick Cooking Spray. In large bowl combine cooked chicken, beans, chiles, corn, and 1 cup cheese; add 1 can enchilada sauce and stir until blended.
Step 3
Spread ½ the remaining enchilada sauce on bottom of baking dish. Place a tortilla on work surface and put ¾ cup chicken mixture in a line down the center of tortilla. Roll tortilla to enclose and put into baking dish seam-side down. Assemble remaining enchiladas in the same manner.
Step 4
Pour remaining sauce over enchiladas; sprinkle remaining cheese on top. Bake for 30 minutes or until bubbly and golden on edges of tortillas. Let stand 5 minutes before serving. Garnish with green onions and serve with sour cream.