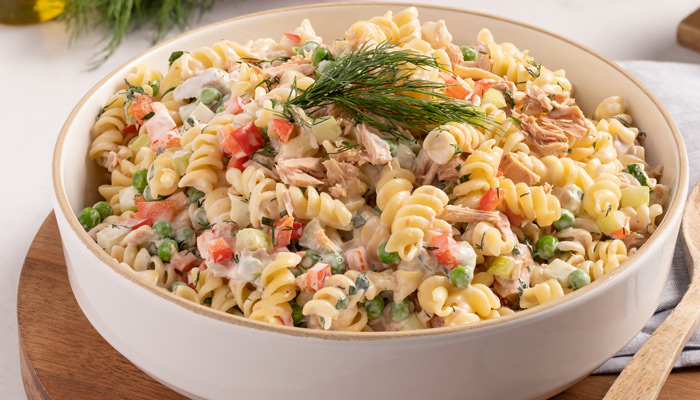 Prep Time: 10 minutes
Cook Time: 10 minutes
Total Time: 20 minutes
Servings: 6
Perfect for lunch or potlucks, this crowd-pleasing cold tuna pasta salad is a fast and healthy dish your whole family will enjoy. It is the perfect balance of creamy dressing, tender pasta, and fresh crunchy veggies. It is easy to make and easy on the wallet with Food Club brand ingredients.
Directions
Step 1
Cook pasta in boiling salted water until al dente, about 10 minutes. Drain and rinse under cold, running water. Transfer to a large mixing bowl. Add celery, bell peppers, peas, and tuna. Toss to combine.
Step 2
Stir in yogurt, mayonnaise, parsley, dill, red wine vinegar, salt and pepper until combined. Cover and chill at least 1 hour before serving.