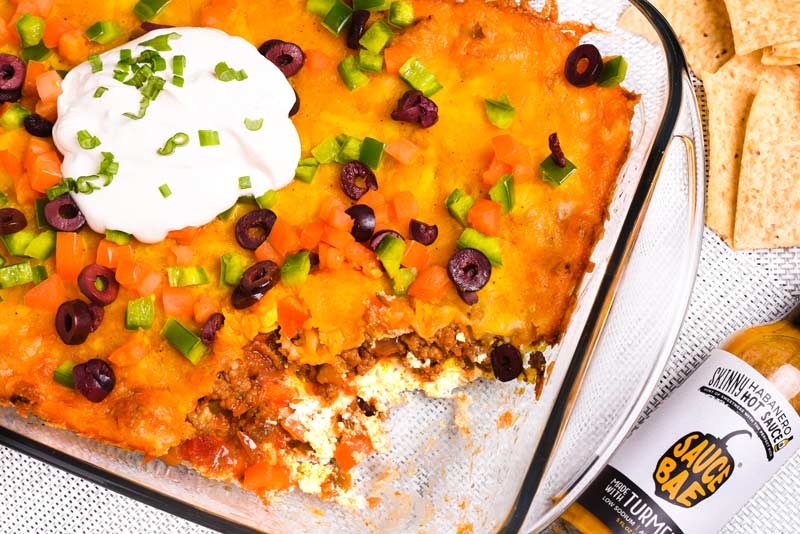 Prep Time: 10 minutes
Cook Time: 25 minutes
Total Time: 35 minutes
Servings: 8
Enjoy 5 decadent layers that are bursting with flavor with a kick of heat from Sauce Bae in this Perfect Party Dip.
Directions
Step 1
Soften cream cheese to room temperature. Preheat oven to 350°F.
Step 2
Heat beef in a skillet over medium heat. Add 1/4 cup of Sauce Bae and 1/8 tsp of salt. Continue cooking and breaking up the beef with a spoon until brown.
Step 3
Spread cream cheese evenly over the bottom of a 9x13 pan.
Step 4
Add an even layer of ground beef on top of the cream cheese.
Step 5
Add an even layer of salsa over the beef. We recommend draining the salsa with a strainer to keep your dip from getting runny. Use a spoon to spread the salsa evenly.
Step 6
Sprinkle cheese on top.
Step 7
Bake until cheese is melted & bubbly, approximately 25 minutes.
Step 8
Remove from oven and let rest. Then our a few dashes of Sauce Bae on top and spread/smear with a brush or spoon.
Step 9
Optional layers: garnish with sliced olives, diced tomatoes, and/or green peppers.
Step 10
Remove from oven. Add a spoonful of sour cream and diced green onions to serve. Serve with tortilla chips.