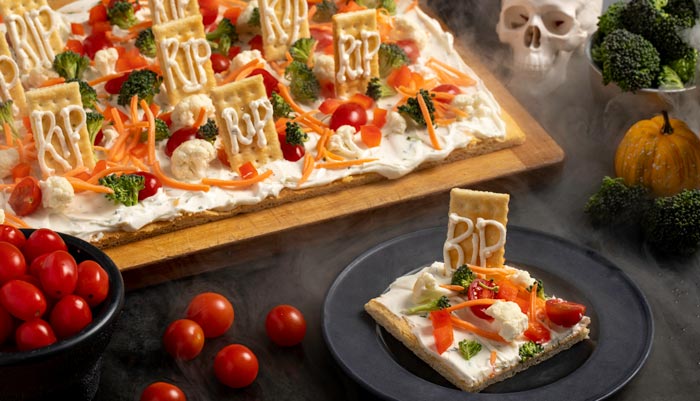 Prep Time: 15 minutes
Cook Time: 15 minutes
Total Time: 30 minutes
Servings: 8
Treat your family and friends to a spooky-themed graveyard pizza, it's a good-for-you addition to your Halloween evening.
Directions
Step 1
Preheat oven to 375°F.
Step 2
Unroll both crescent doughs and seal the perforated seams. Press one dough into half of a 15x10" pan. Add the second dough to the other half and seal the seam.
Step 3
Bake for 12-15 minutes, or until lightly golden-brown. Allow to cool completely.
Step 4
Mix 1 tablespoon cream cheese and 2 teaspoons sour cream. Put into a small resealable plastic bag and set aside.
Step 5
Mix the remaining cream cheese, sour cream, ranch salad dressing mix and dill in a medium bowl until combined. Spread evenly over the baked dough.
Step 6
Add the broccoli florets, cauliflower florets, grape tomatoes, carrots, and bell pepper to the pizza.
Step 7
Cut the corner off the plastic bag and pipe "RIP" on the butter crackers. Arrange on the pizza as tombstones.