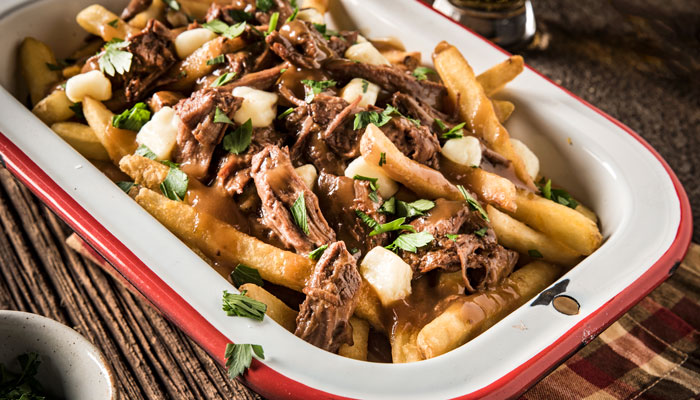 Prep Time: 5 minutes
Cook Time: 420 minutes
Total Time: 425 minutes
Servings: 6
Beef Poutine is classic comfort food. A simple slow cooker roast beef and gravy is the highlight of this hearty dish to make for a family meal or game day feast.
Directions
Step 1
Season eye of round cubes with salt and pepper and place in a slow cooker with beef and chicken stocks. Cook on high for 6 hours or on low for at least 8 hours.
Step 2
Cook fries according to package directions; keep warm.
Step 3
Whisk together water and cornstarch to create a slurry; stir into broth and beef mixture. Simmer for 3 more minutes. With two forks, pull each cube of beef into thick shreds; keep warm.
Step 4
Season fries with additional salt and pepper to taste. Serve topped with beef, gravy and cheese. Garnish with parsley.