Crispy Bacon Spaghetti with Jammy Eggs & Chives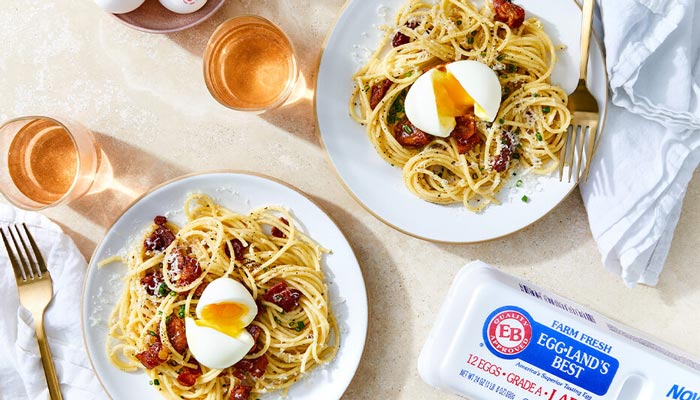 Prep Time: 15 minutes
Cook Time: 18 minutes
Total Time: 33 minutes
Servings: 4
Combine family favorites of spaghetti, bacon and eggs to make Crispy Bacon Spaghetti with Jammy Eggs & Chives! This dish lands somewhere between a carbonara and cacio e pepe.
Directions
Step 1
Bring a large pot of salted water to a boil. (For the best-finished sauce, use as little water as needed to cook the pasta and prevent it from sticking.) Add the spaghetti and cook 1 minute less than the package instructions for al dente, about 8 to 9 minutes. Drain the pasta, reserving at least 1 cup of the pasta water; set the cooked pasta and pasta water aside.
Step 2
Place a steamer basket in a medium saucepan with a tight-fitting lid. Bring about 1 inch of water to a boil. Add the eggs and steam, covered, for 6 minutes. Immediately transfer eggs to an ice bath. When cool enough to handle, gently crack the eggs and carefully remove the shells. Meanwhile, chop the bacon into 1-inch pieces. Add to a cold, dry skillet. Place the skillet over medium heat and cook until crispy, 16 to 18 minutes. Transfer to a paper towel-lined plate to drain. Pour off all but 2 tablespoons of bacon fat.
Step 3
To the bacon fat in the skillet, add the black pepper and cook, stirring, until fragrant, about 30 seconds. Stir in the butter until melted. Using tongs, transfer the pasta to the skillet, and add about ½ cup of pasta water. Toss to coat. Stir in the Pecorino Romano until incorporated, adding additional pasta water if needed. Stir in three-quarters of the chopped bacon.
Step 4
Transfer the pasta to bowls. Sprinkle with chives and the remaining bacon. Place an egg on top, and split with a knife. Serve, and enjoy.