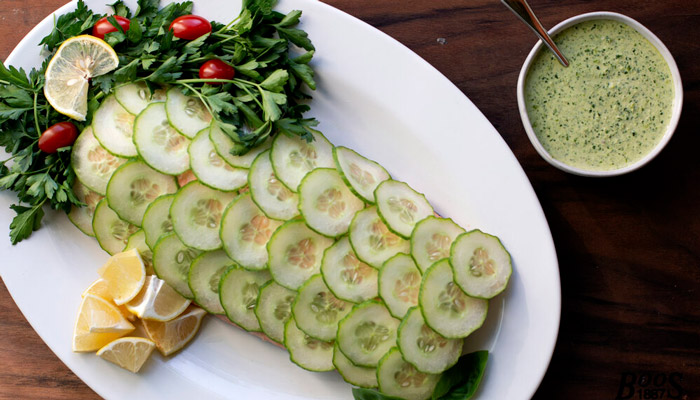 This elegant recipe is simple, yet delicious. Poach the salmon in a classic French court bouillon of boiling water with wine and dress with cucumbers and a Green Goddess Dressing.
Directions
Step 1
In a pot large enough to hold the salmon, combine the wine, 3 sprigs parsley, lemon slices, onion, celery and whole peppercorns. Add a few inches of water and bring to a boil. Let simmer for 10 minutes.
Step 2
Add the salmon fillet (it should be fully submerged) and bring the water back to a boil. Cover, turn off the heat and let it rest in the hot court bouillon for 30 minutes. Using 2 spatulas, carefully transfer the salmon fillet to a large platter. Refrigerate until cool.
Step 3
Meanwhile, combine 1 cup lightly packed parsley leaves, green onions, anchovies, tarragon leaves, lemon juice, shallot, Worcestershire sauce, white vinegar, garlic, and salt & pepper to taste for the green goddess dressing in a food processor. Puree until smooth. Cover and refrigerate until you're ready to serve.
Step 4
Garnish the salmon with cucumber slices and add parsley, lemon and tomatoes to the platter. Serve with the green goddess dressing.