Green Bean Tater Treat Casserole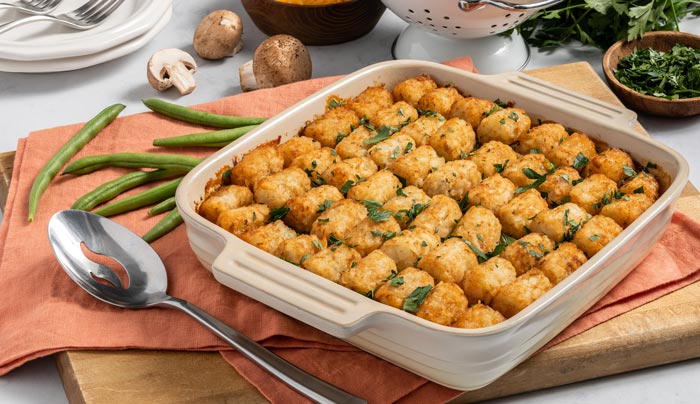 Your family will love this one-pan comfort food made with ground beef and Acme brand ingredients that are always a good value: green beans, creamy soup, lots of cheese, and frozen tater treats.
Directions
Step 1
Preheat oven to 375°F. Lightly grease a 9-inch square baking dish.
Step 2
Brown the ground beef and onion in a large skillet over medium heat. Cook until no longer pink. Drain the fat and season with salt & pepper. Mix in the ketchup and transfer meat mixture to the baking dish.
Step 3
Pour the cream of mushroom soup over the meat and spread into an even layer. Top with the green beans and sprinkle with cheddar cheese.
Step 4
Arrange the tater treats in rows over the cheese.
Step 5
Bake for 35-40 minutes, or until the filling is bubbly and the tater treats are golden-brown.
Step 6
Remove from oven and garnish with chopped parsley.