Fried Chicken Club Sandwich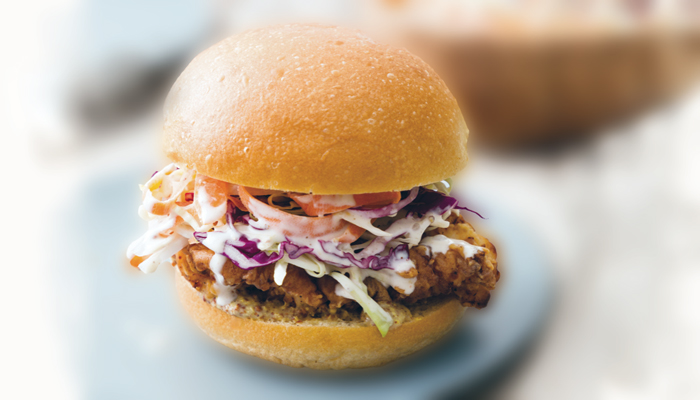 Prep Time: 15 minutes
Cook Time: 20 minutes
Total Time: 35 minutes
Servings: 8
This is the ultimate spicy fried chicken recipe. This deep-fried club sandwich is marinated in Slap Ya Mama cajun hot sauce for a kick you won't forget!
Directions
Step 1
Cut chicken breasts in half horizontally to make two thinner slices of meat. Pound with mallet to make even thinner (optional).
Step 2
In a 13x9-inch baking dish, combine buttermilk and Slap Ya Mama Cajun Hot Sauce. Add chicken to the dish, making sure the meat is submerged. Cover with plastic wrap and refrigerate for at least 4 hours.
Step 3
In a large bowl, combine cabbages, carrot, and onion.
Step 4
In a small bowl, whisk together mayonnaise, apple cider vinegar, 1 tsp mustard, celery salt, black pepper, and white pepper. Pour mayonnaise mixture over cabbage mixture, stirring to combine. Refrigerate until ready to serve.
Step 5
In a large cast-iron skillet, pour oil to a depth of 1", and heat over medium heat until a deep-fry thermometer registers 350°F.
Step 6
In another 13x9-inch baking dish, stir together flour and cajun seasoning. Remove chicken from buttermilk mixture, discarding marinade. Dredge chicken in flour mixture, turning to coat. Working in batches, fry chicken until browned on both sides and a meat thermometer is inserted in the thickest portion registers 160°F. Let drain on paper towels.
Step 7
Spread 1 tsp mustard onto bottom half of each bun. Top with fried chicken can slaw. Cover with half of bun.