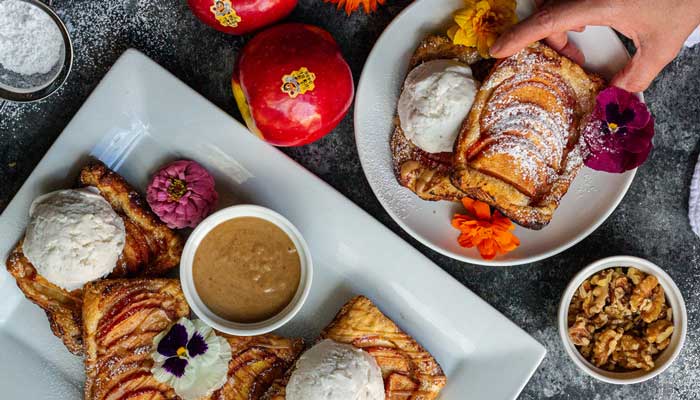 SugarBee Apple Tarts are similar to apple pie but the tart is thinner and showcases the beautiful sliced apples on top for a beautiful presentation. Use SugarBee® apples for their mild, sweet flavor and crisp consistency as well as their brightly colored, thin skin.
Directions
Step 1
Preheat oven to 400°F.
Step 2
Combine the melted butter, sugar and cinnamon in a bowl and set aside.
Step 3
Roll out each puff pastry sheet to make them a bit thinner, and cut each of the puff pastry sheets into 6 equal squares (you should have 12 in total as most packages come with 2 sheets).
Step 4
Working one square at a time, gently roll in the sides to create a barrier. Using a fork, prick the bottom of the square, then brush on some of the cinnamon butter.
Step 5
Arrange a few slices into the puff pastry square to create a diagonal pattern and brush the slices with a bit more of the cinnamon butter. Transfer the tart to a parchment paper lined baking tray and repeat with the remaining puff pastry squares. You may need to use 2 baking sheets.
Step 6
Bake the tarts until the pastry is golden brown and the apple slices are tender, 15 to 20 minutes.
Step 7
Remove from the oven and let cool at room temperature for 10 minutes.
Step 8
Sprinkle with powdered sugar, a drizzle of caramel, and serve with vanilla ice cream.