Spicy Mahi Mahi with Citrus Slaw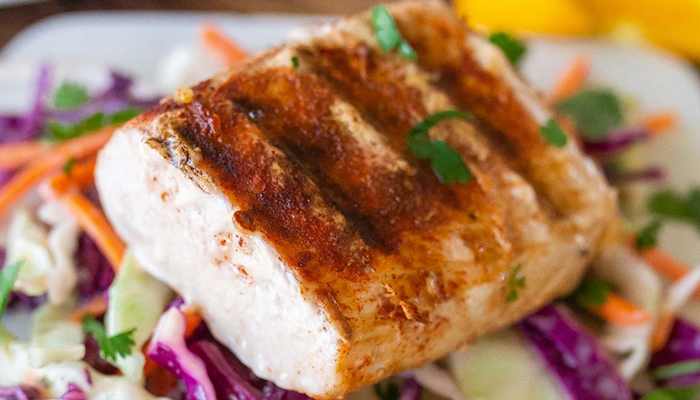 Prep Time: 20 minutes
Cook Time: 10 minutes
Total Time: 30 minutes
Servings: 4
Prepare this healthy and vibrant Mahi Mahi meal in less than ½ hour.
Directions
Step 1
For the slaw: Combine red cabbage, purple cabbage, carrots, and cilantro.
Step 2
For the Rub: Combine 1 Tbsp garlic salt, 1 Tbsp brown sugar, 1/2 tsp cayenne pepper, 1/4 tsp black pepper, 1 tsp onion powder, 1 tsp paprika, and 1/2 tsp cumin. Mix well.
Step 3
For the Slaw Dressing: Whisk together zest and juice from orange, zest and juice from lemon, zest and juice from lime, 1 Tbsp sugar or honey, 1 Tbsp olive oil, and 1 tsp garlic salt.
Step 4
Preheat grill to high.
Step 5
Season Mahi Mahi generously with the rub.
Step 6
Grill for 2-3 minutes on each side.
Step 7
Serve atop a bed of citrus slaw.
Step 8
Toss with the slaw mixture and dressing together. Serve with the fish.
Cook's Notes
For stove-top cooking: Heat oil in a large cast-iron skillet or sauté pan over medium-high heat. Add fish to the pan and cook for 2 to 3 minutes on each side or until the desired degree of doneness.