Strip Roast with Maple Bourbon Bacon Glaze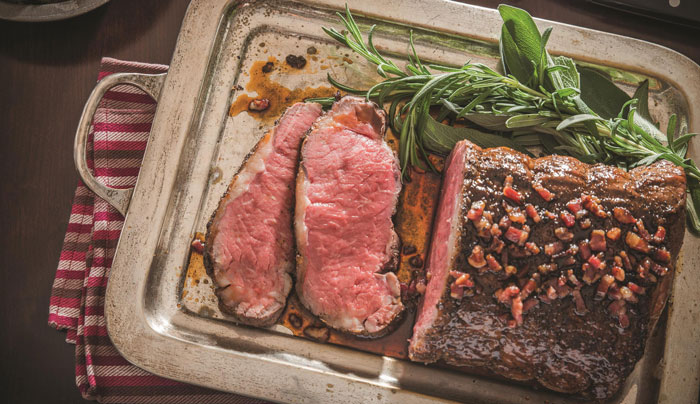 Prep Time: 20 minutes
Cook Time: 70 minutes
Total Time: 90 minutes
Servings: 8
Strip Roast with Maple Bourbon Bacon Glaze is a mouth-watering dinner. Delight your guests with this super simple recipe for tender, flavor-packed roast beef.
Directions
Step 1
Generously season strip roast with salt and pepper. Refrigerate overnight.
Step 2
Preheat oven to 450°F.
Step 3
Place roast, fat side up, on a roasting rack in a roasting pan. Brown in oven for 15-20 minutes, reduce oven temperature to 325°F and continue roasting until it reaches desired doneness, approximately 70 minutes for medium rare.
Step 4
While roast is cooking, prepare glaze.
Step 5
Cook bacon until golden. Strain bacon and reserve fat, keeping both at room temperature.
Step 6
In a medium saucepan over medium heat, combine beef stock and maple syrup. Using a wooden spoon, stir occasionally until syrup becomes a deep mahogany color, approximately 20 minutes. Add half the coffee; stand back as it will boil vigorously. When boiling slows down, whisk in remaining coffee and bourbon. Simmer an additional 5 minutes. Whisk in reserved bacon fat.
Step 7
Remove roast from oven at 10 degrees below target doneness and allow to rest 10 minutes before carving (roast will continue to cook). Serve warm glaze over roast, adding bacon into glaze, or on top as a garnish.