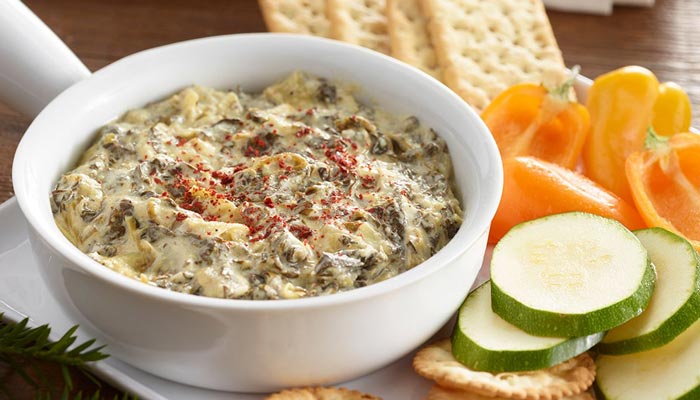 Prep Time: 10 minutes
Cook Time: 240 minutes
Total Time: 250 minutes
Servings: 12
This creamy and delicious Slow Cooker Spinach Dip combines two cheeses, turkey bacon and artichoke hearts for a special, tangy zing. And because it's in a slow cooker, you can set it and forget it!
Directions
Step 1
In lightly greased slow cooker, stir together spinach, green onions, garlic, artichoke, cheeses, vegetable broth, sour cream, mayonnaise and seasoned pepper. Cook on HIGH 4 hours.
Step 2
Preheat a nonstick skillet or electric griddle over medium heat (375°F.). Heat slices of bacon for 6-7 minutes or until desired crispness, turning frequently.
Step 3
Finely chop bacon. Place bacon on top of spinach dip. Serve with sliced vegetables or crackers, if desired.
Cook's Notes
This dip is gluten-free, serve with gluten-free crackers and fresh vegetables for a gluten-free appetizer.