Backyard BBQ Beyond Burger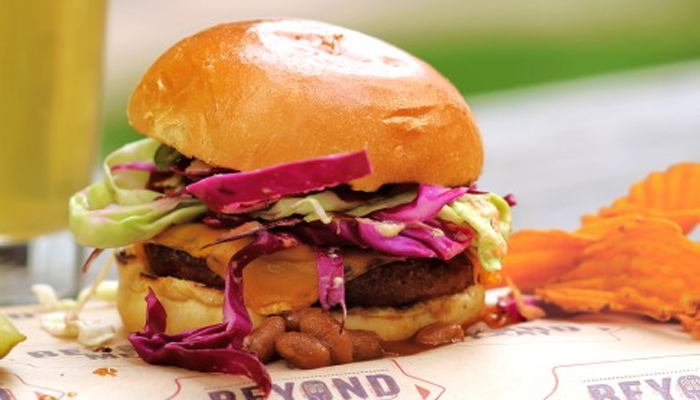 Prep Time: 10 minutes
Cook Time: 15 minutes
Total Time: 25 minutes
Servings: 4
A better-for-you burger made with Beyond Meat that's meaty and juicy that the whole family will enjoy!
Directions
Step 1
Preheat and clean grill.
Step 2
Finely shred half of the purple and green cabbages and add them to a large mixing bowl. Add 2 shredded carrots along with your mustard, vinegar, vegan mayonnaise (optional) and season with salt and pepper. Mix thoroughly. Once finished, set aside in the refrigerator.
Step 3
Warm BBQ baked beans in a pot on a medium-low setting. Turn to simmer if they start to bubble.
Step 4
With your grill primed, grill the Beyond Burgers® for 3 minutes per side. Internal temp should hit 165-degrees F.
Step 5
Top the burgers with cheddar cheeses.
Step 6
Now it's time to assemble your burger. With your toasted buns, first apply a layer of BBQ Baked beans on the bottom bun. Then add your Beyond Burger and coleslaw. Finish the burger off with a drizzle of BBQ sauce, mayonnaise (optional) and garnish with thinly sliced Jalapenos.