Hawaiian-Style Kabobs and Baked Beans
published Wednesday, June 23, 2021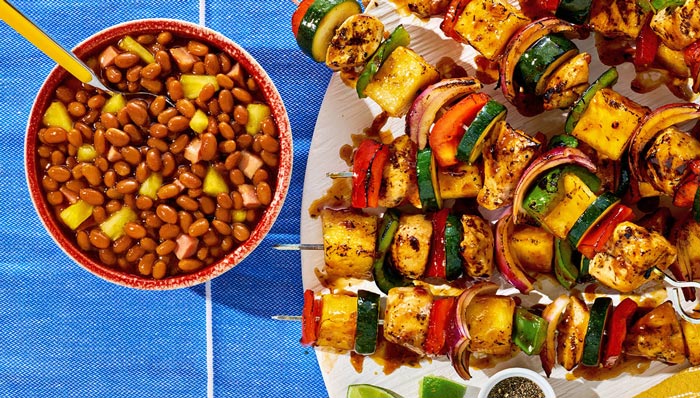 Prep Time: 20 minutes
Cook Time: 10 minutes
Total Time: 30 minutes
Servings: 6
Hawaiian-Style Kabobs and Baked Beans are the perfect companions at your next summer cookout.
Directions
Step 1
Combine 28oz Bush's Brown Sugar Hickory Baked Beans, 4 oz drained diced pineapple, and ½ cup diced ham together, heat and serve!
Step 2
Heat a grill or grill pan over medium high heat.
Step 3
Combine 1/2 cup teriyaki sauce with 2 Tbsp pineapple juice from canned pineapple to use as kabobs marinade.
Step 4
Thread remaining pineapple chunks, red & green bell pepper slices, zucchini slice and red onion alternately onto the skewers. Drizzle the skewers with the olive oil and season with salt and pepper.
Step 5
Grill for 5 minutes on each side. Brush pineapple teriyaki marinade all over each kabob and grill for one minute more on each side. Serve immediately.
Cook's Notes
If using bamboo skewers, soak in cold water for 20 minutes before using.