Double Decker Turkey Smash Burger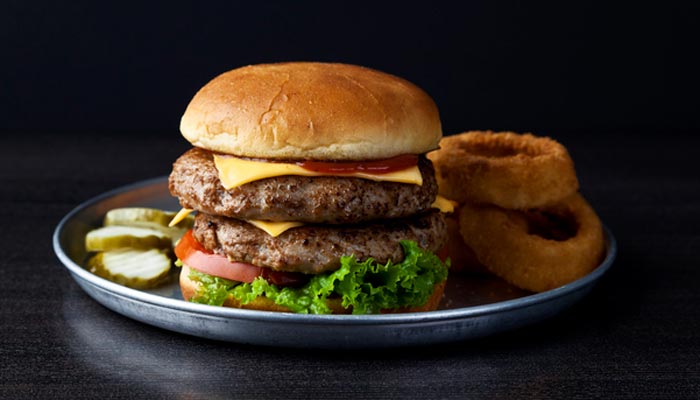 Prep Time: 15 minutes
Cook Time: 10 minutes
Total Time: 25 minutes
Servings: 4
Crispy on the outside, and tender, juicy and flavorful on the inside, our Double Decker Turkey Smash Burgers will definitely satisfy your burger craving. Treat dad to this smashing at-home burger experience today!
Directions
Step 1
Combine garlic, salt, pepper and Worcestershire sauce in medium bowl. Add turkey; mix well.
Step 2
Heat large nonstick skillet over medium-high heat. Spray with nonstick cooking spray. Scoop four mounds of turkey mixture by ½ cupfuls into skillet; press down with spatula to form ½-inch-thick patties. Cook 4 minutes or until well browned on bottoms. Spray tops of patties with cooking spray. Flip patties. Cook 4 minutes or until centers register 170°F when tested with instant-read thermometer; top with cheese during last 2 minutes of cooking. Repeat with remaining turkey and cheese to make eight patties.
Step 3
Stack two patties in each bun. Serve with desired toppings.