Maple, Bourbon, & Mustard Glazed Bacon-Wrapped Brats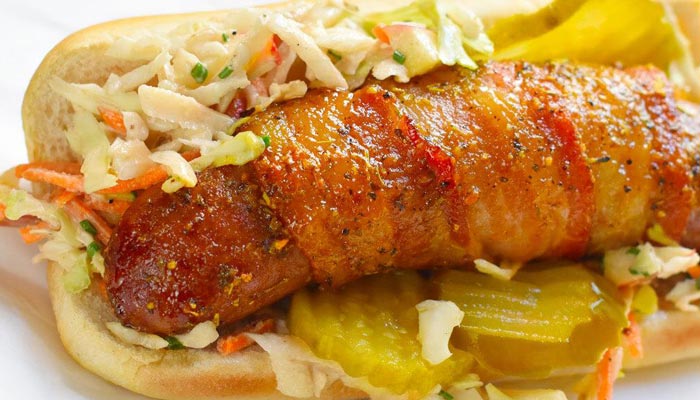 Prep Time: 10 minutes
Cook Time: 30 minutes
Total Time: 40 minutes
Servings: 5
This recipe will remind you of what summer is all about! Enjoy a delicious all-meat brat wrapped in smoky bacon then glazed with a delicious combo of maple syrup, bourbon, dijon mustard, and Italian seasoning. Throw them on the grill or bake in the oven.
Directions
Step 1
Preheat oven or grill to 375° F.
Step 2
Wrap each brat with a slice of bacon leaving each end of brat uncovered.
Step 3
Mix together the maple syrup, bourbon whiskey, mustard, black pepper & Italian seasoning together in a small bowl to make glaze.
Step 4
Place bacon wrapped brats on a baking sheet pan. Brush generously with maple-bourbon-mustard glaze.
Step 5
Bake for 15 minutes and re-glaze brats. Bake until bacon is well-cooked and crispy on the edges. Another 10-15 minutes. It will take longer if you use thick cut bacon. Remove pan from oven.
Step 6
While brats are cooking mix together cole slaw mix, chopped apple & dressing.
Step 7
Place some cole slaw in bun and top with bacon wrapped brats. Add more slaw and pickle slices.