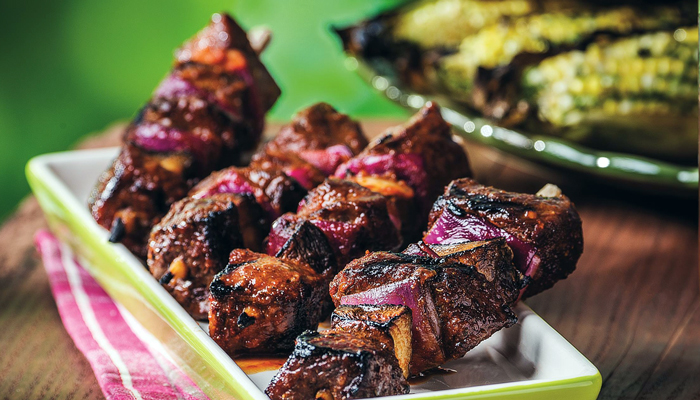 Cook Time: 30 minutes
Total Time: 30 minutes
Servings: 6
Spiced steak, mushrooms, and onion on sugar cane skewers are grilled and served with homemade barbecue sauce. Make this recipe to give your guests a meal with layers of incredible deep flavor.
Directions
Step 1
In small saucepan over medium heat, combine vegetable juice, apple cider vinegar, onion, bell pepper, agave nectar, Worcestershire sauce, hot sauce, garlic powder, smoked paprika and mustard powder. Bring to a simmer and cook 15 minutes, until thickened.
Step 2
Remove sauce from heat and puree with an immersion blender or in a traditional blender. Allow sauce to cool slightly.
Step 3
Combine coconut sugar, salt, smoked paprika, garlic powder, onion powder, dry mustard, chili powder, dried Italian herbs, black pepper and crushed red pepper, mixing well. Toss sirloin steak cubes with spice mixture and let rest 5 minutes.
Step 4
Layer steak, mushroom pieces and onions onto sharpened points of skewers. Divide ingredients among six skewers, planning one per person.
Step 5
Grill kabobs 3-4 minutes per side, about 10-15 minutes total, until meat is cooked to desired doneness. Brush cooked kabobs generously with barbecue sauce and serve.