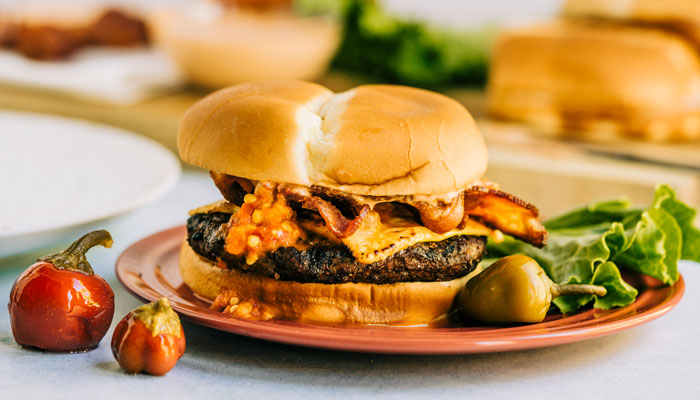 Prep Time: 15 minutes
Cook Time: 11 minutes
Total Time: 26 minutes
Servings: 6
This legendary burger is packed with flavor with both a smoky sauce and homemade pepper relish and topped with crisp bacon.
Directions
Step 1
Combine mayonnaise, Dijon mustard, ketchup, pickle juice, smoked paprika, and cayenne pepper. in a small bowl and whisk until smooth. Set aside.
Step 2
Place roasted red peppers in a blender or bowl of a food processor. Add the honey and olive and blend until smooth and only seeds remain. Set aside.
Step 3
Cook the beef patties on a grill or griddle over medium heat. Cook first side for 3 minutes, flip, then additional 5-8 minutes until internal temperature reaches a minimum of 160°F. Season with salt and pepper.
Step 4
Add a slice of cheese to the top of each burger at the end of cooking and allow it to melt before removing from the heat.
Step 5
Spread a 1-2 tablespoons each of the pepper sauce and relish on the top burger bun. Add a beef patty to the bottom bun, top with a few slices of bacon, place the top bun with the sauce on the patty and enjoy.