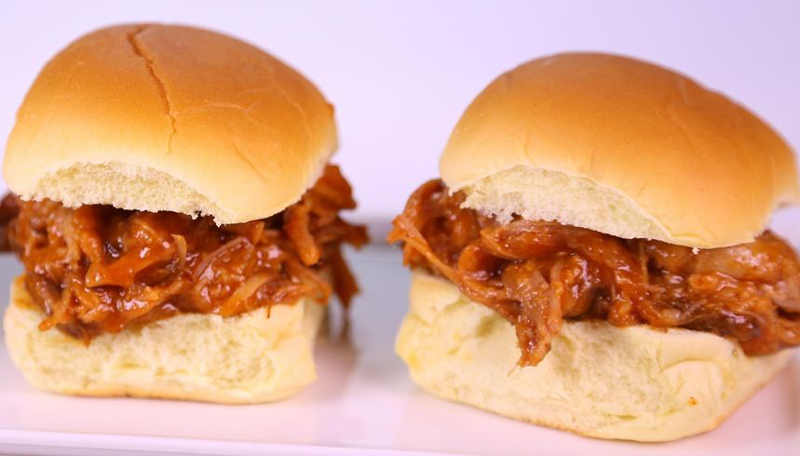 Prep Time: 15 minutes
Cook Time: 240 minutes
Total Time: 255 minutes
Servings: 6
Slow-cooked pork shoulder tossed with Braswell's Carolina BBQ Sauce and caramelized onions, topped with pickles and served on sweet slider rolls.
Directions
Step 1
Heat 1 tablespoon of olive oil in a pan over medium high heat. Sear the pork tenderloin for 5-6 minutes per side, or until golden brown. Place the pork in a slow cooker. Pour Braswell's Carolina BBQ Sauce over the pork. Cover the slow cooker and cook on LOW for 6-8 hours, or HIGH for 4 hours.
Step 2
Shred pork. Toss with additional Braswell's Carolina BBQ Sauce and caramelized onions.
Step 3
Serve BBQ pork on sliders with pickles.
Step 4
To caramelize onions: Add butter and sliced onions to a large pan and cook over medium-low heat. Sprinkle with salt and stir every 2-3 minutes, allowing them to caramelize on the bottom in between stirring. If the onion start to dry out and stick to the pan, add 1-2 tablespoons of water to deglaze the pan. Continue this process of stirring, scraping and deglazing until the onions have caramelized, about 45 minutes.
Cook's Notes
Serve with pickles, potato chips or potato salad.