Easy Bacon and Pea Pasta Salad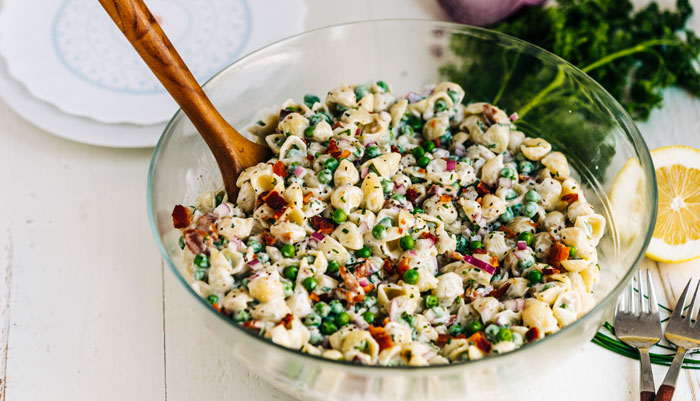 Prep Time: 20 minutes
Cook Time: 20 minutes
Total Time: 40 minutes
Servings: 6
The sweet pop of tender baby peas, creamy dressing, crunchy red onion, hard-boiled eggs, and crispy bacon join forces with shell pasta in your new favorite side dish: Easy Bacon Pea Pasta Salad. With Easy Bacon Pea Pasta Salad, your meal is easy peasy.
Directions
Step 1
Cook chopped bacon in a large skillet over medium-heat until crispy, and place on paper towel-lined plate to drain. Set aside.
Step 2
Cook pasta shells in boiling, salted water as directed on pasta packaging. Pour pasta into large colander and rinse under cold water until chilled and set aside.
Step 3
Make the dressing by whisking together the mayonnaise, olive oil, lemon juice, mustard, salt and pepper until smooth and then stir in parsley and chives.
Step 4
Prepare the salad by placing pasta shells in a large mixing bowl and adding the bacon, peas, and red onion. Pour the dressing into the bowl and toss to combine until ingredients are well coated.
Step 5
Serve chilled alongside your favorite grilled entrees.